Headlines May 10th, 2002

Swearing In Ceremony
May 9th, 2002

City Clerk Barbara Belz administers the Oath of Office to Tim Mikeska
joining him is his wife Candy and his youngest son, Timothy.

My Commitment To Public Service
the following is taken from the Taylor City Council's Minutes of the March 26th Meeting....
The City Council of the City of Taylor met on March 26, 2002, 6:00 p.m. City Hall, Taylor, Texas with the following present:
Mayor Jeffrey M. Berger City Manager Frank Salvato Mayor Pro Tem Donald R. Hill City Clerk Barbara Belz Council member Bernabe Gonzales City Attorney Ted Hejl Council member Gary Maruska
Absent: Council member Calvin Janak, Sr.

CANCEL MAY 4, 2002 AT LARGE COUNCIL ELECTION – RESOLUTION NO. R02-5
Mayor Berger moved to approve Resolution No. R02-5 declaring Rudy Leonard Mikeska, Jr. elected to office
"My sincere thanks to all of those citizens of Taylor and my family who have supported me in this endeavor..... I am ready and willing to serve"......Tim Mikeska
Mikeska's Serving the Governor of Texas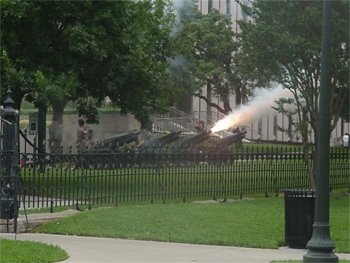 April 27, 2002 Rudy Mikeska's served the Governor of Texas at the State Capitol The Governor was saluted with cannon fire from the Texas Army National Guard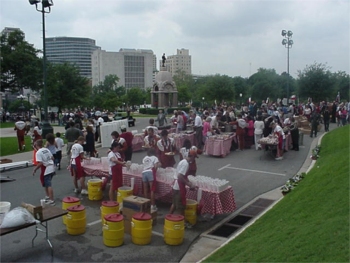 Over 2,800 guests were served our Traditional Texas Bar-B-Q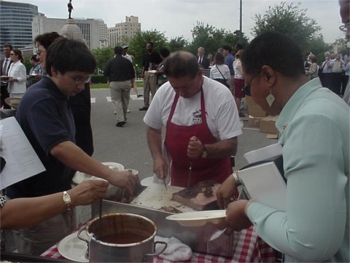 Our long time friend, Peter Chapa is shown carving one of over 200 Beef Briskets and 2,000 links of Mikeska's Sausage that were served to the hungry crowd
Catering Versatility....
Hamburgers, Grilled Chicken Breast, Hot Dogs, and Mikeska's Sausage Tortilla Wraps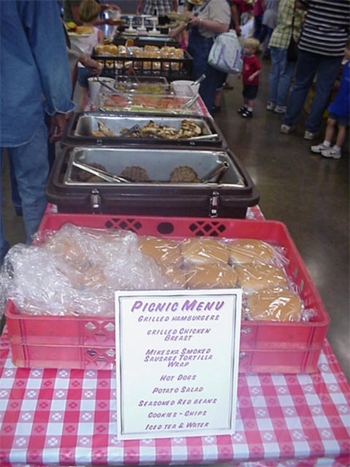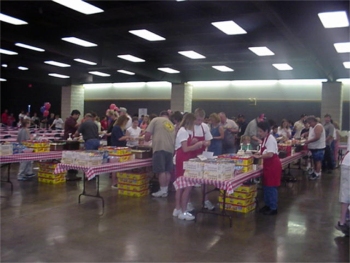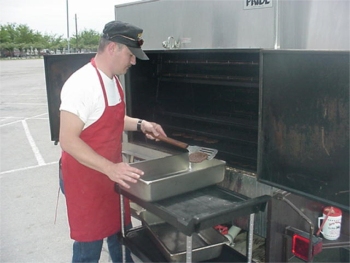 Shawn Newsom is shown pulling one of over 1,500 hamburgers that he cooked on our Mobile SP-500 Pit
Judy and Darvin Kaase are finally Grandparents!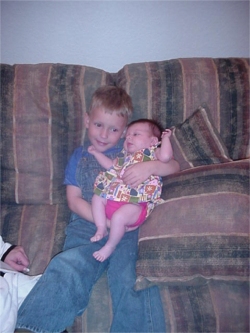 Timothy Mikeska holds his new cousin Julia Kaase
a new member of the Mikeska Family, daughter of Tim's nephew David and his wife Charlene Kaase
I am a Great ( as in Great Old) Uncle !!!
Taylor Airport Hangar Party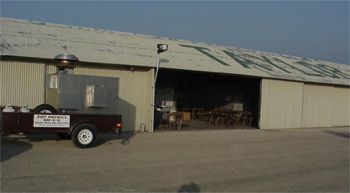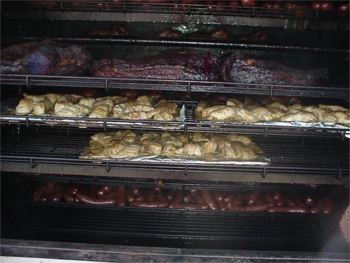 Beef Brisket, Mikeska's Pork Sausage, Smoked Chicken and Smoked Catfish!
all cooked on location at the Taylor Municipal Airport's Phase 1 completion party
Thanks to all of our great friends......
Rudy L. "Tim" Mikeska Jr.
Diamond Inn Hamburger Count....... Tuesday's Only Total....... 29,025

Web Articles Relating to Our Business:
Click to View....
Austin Chronicle Article About the Mikeska Family Food Businesses
American Statesmen Article About Rudy Mikeska's Turkey Fries
Texas Army National Guard Article About Tim Mikeska's Trip to Bosnia
Austin Article...."Smoke Gets in Your Mouth" Rudy Mikeska's
National Article About Texas Bar-B-Q Spice and Seasoning Rubs
UT Bar-B-Q Club Food Review About Rudy Mikeska's (4 1/2**** Stars)
Food Networks TV Source Listing For Rudy Mikeska's Bar-B-Q
Google Web Directory Listing For Rudy Mikeska's Bar-B-Q
Austin Chronicle Article About Central Texas Bar-B-Q
Food Networks TV Recipe Listings for Rudy Mikeska's Bar-B-Q
Yahoo Web Directory Listing for Rudy Mikeska's Bar-B-Q
Texas Cooking Newsletter About Rudy Mikeska's Bar-B-Q
Top Twenty Texas Bar-B-Q Restaurants (Texas BBQ Homepage)
Austin Article on "Out of Town" Barbecue
Past Events and News Archives:
Click to View:
Archive Highlights: 12-29-99..........Hoover Family, Rudy Sr's Prayer Garden, Uncle Maurice
Archive Highlights: 1-15-2000........ Merle Haggard's Wedding
Archive Highlights: 2-14-2000........ A Mikeska Wedding, Sheriff Ed Richards, Crockett High School Sports Banquet
Archive Highlights: 3-2-2000.......... Diamond Inn Hamburgers, More of Gerry's Wedding, BOSNIA yes or no?
Archive Highlights: 3-13-2000....... Baylor University Award, Lent Specials, SnakeShow, Meggie's Scholastic Award, Definition of "Bohemian"
Archive Highlights: 3-25-2000....... Movie at the Mikeska Home, My Children, Candy's Birthday, Military C-130 to California Catering, Some of My Aunts.
Archive Highlights: 4-9-2000.......Serving the Governor at the Capitol, Longhorn Band, Lt. Gov.Rick Perry and Timothy, Astros at Enron Field, Nolan Ryan
Archive Highlights: 4-20-2000......History of our Building, cooking a ton of beans, New Round Rock Express Stadium "Dell Diamond", SP-500 Mobile Pit smoking our famous Pork Loin
Archive Highlights: 5-1-2000.......Mr. Rudy's Grand Champion, Cooking Crawfish, Our Corporate Airplane, Picnic for 3,000,
Archive Highlights: 5-15-2000..... My Grandfather John Mikeska, Mom & Dad in the 1950's, My Dad and I in 1961, Skiing Mikeska Cousins, Bosnia Update
Archive Highlights: 6-10-2000.....San Francisco, Taylor Publishing Party, Rudy's Glazed Brick Pit/Smoker.
Archive Highlights: 6-15-2000.....Texas Barbecue Book, Keith's New McDonalds Franchise, Tribute to Matt Maddox, Bosnia Itinerary.
Archive Highlights:6-27-2000......Stephen & Angie Mikeska's Wedding, Texas A&M University's Stiles Farm Foundation Annual Bar-B-Q.
Archive Highlights:7-10-2000......BOSNIA.... my personal thoughts and my first list of pictures
Archive Highlights:7-18-2000......BOSNIA... more pictures, our July 4th Bar-B-Q at Eagle Base Tuzla, Bosnia
Archive Highlights:8-7-2000.......BOSNIA.... more pictures, BIG Redfish
Archive Highlights:8-14-2000 ......Mikeska Kids:"Wanted Poster", Rudy III and Tim making "Mikeska Brand" sausage, few more BOSNIA pictures
Archive Highlights:8-28-2000.......The "Quiet Birdmen", Mikeska's 22nd Annual Taylor International BBQ Cookoff Judges Party, Our meat selections,
Archive Highlights:9-17-2000.......Westlake High School's 1,400 guests at the Stadium, Ribs Served Hot Off The Pit, Happy Birthday Mike Vanecek
Archive Highlights:9-25-2000.......Texas National Guard Family Readiness Dinner, Soldiers Return From Bosnia, One Last Picture From Bosnia
Archive Highlights:10-3-2000......Sunbelt Rentals Catfish Buffet, Tim Mikeska....appointed to the Board of Health.
Archive Highlights:10-18-2000......Rudy Mikeska's Featured in United Airlines Hemispheres Magazine, Taylor High School "Ducks" Homecoming Lunch, Zimmerhanzel-Altman Wedding
Archive Highlights: 10-24-2000......Complete Coverage of the Zimmerhanzel Altman Wedding.
Archive Highlights: 11-1-2000......Food Network's Food Nations Program Announcement with Tim Mikeska, Texas Heritage Coalition Event at the State Capitol, Agriculture Commissioner Susan Combs visits Rudy Mikeska's Bar-B-Q.
Archive Highlights: 11-12-2000......Pictures of the Filming of Food Network's FoodNations Program with Chef Bobby Flay
Archive Highlights: 11-28-2000......Press Reports of the Food Networks "FoodNations" Program, Las Vegas Catering Pictures
Archive Highlights: 12-3-2000.......Texas Army National Guards Bosnia Homecoming Party, Tim with U.S. Senator Kay Bailey Hutchison
Archive Highlights: 1-1-2001........Christmas and New Years Wishes, City of Taylor's Christmas Party,Williamson County Judges Christmas Party
Archive Highlights: 2-1-2001.......Food Networks FoodNations Program Air Date, Happy 16th Birthday Meggie Mikeska, THS Sophomore Class Catfish Dinner Fundraiser, Vanecek Family's Superbowl Party Pictures.
Archive Highlights: 3-1-2001.......Food Networks 5th Replay of FoodNations Program and Show Schedule, Temple College Mardi Gras Event Fundraiser, Smoked Pork Loin, Joy Mikeska's Shrimp Gumbo
Archive Highlights:4-1-2001.......Tim Mikeska Awarded the "Texas Eagle Award" in ceremony at Houston's Adams Mark Hotel, Small Business Bar-B-Q at the State Capitol
Archive Highlights:5-1-2001.......Serving the Texas State Legislature, House Speaker Pete Laney, Del Webbs Sun City Event, New Austin Convention Center "Topping Out" Party, Schwertner Farms: "Quiet Birdmen"
Archive Highlights:6-1-2001.......Serving the Governor of Texas, Hyde Park Baptist Church Quarries, Dell Computer Event, TXDOT Fish Fry at Camp Mabry, Making Cherry Plum Jelly, Mikeska's Picked as an Official Yahoo! Site.
Archive Highlights: 8-1-2001......Tribute to Our Mother, Joy Aline Mikeska 2-19-1922 - 6-30-2001, Obituary and Eulogy by Tim Mikeska
Archive Highlights: 9-26-2001..... Picture Tribute for 9-11-01, Catering the Texas Task Force One Return From New York Rescue Homecoming Event, with Senator Barrientos and old friend Rescue Specialist, Rod Dennison
Archive Highlights: 11-19-2001...... Austin Chronicle Article about the Mikeska and Vanecek Family, New Airplane for Mikeska's, Family Time
Archive Highlights: 12-25-2001....... Taylor Christmas Parade, Labtops Christmas & Williamson County Judges Christmas Parties, Aunt Martha Mikeska Vanecek, Vanecek's Missile-Hunting Silo, Candy and the Kids.
Archive Highlights: 2-6-2002....... President Bush's Appointment of Maj.Gen Daniel James to Head the Air National Guard, Crockett High School's Chicken Fried Steaks cooked on location, El Paso Super Bowl Party
Archive Highlights: 3-11-2002...... Tim Mikeska's City Council Announcement, TXDOT Fish Fry, Judge John Carter's for Congress Political Fundraiser Event at Mikeska's Durango Room, Rattlesnake's for Snacks at the Snake Sacking Championships.