Joy Mikeska
February 19, 1922
June 29, 2001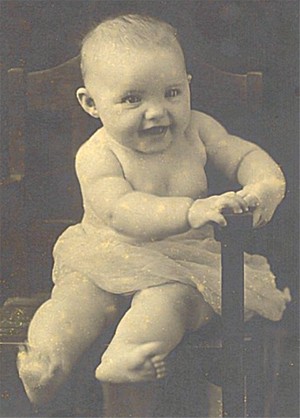 Joy Aline Marshall....6 months old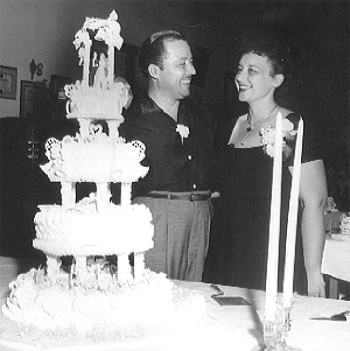 Mom and Dad Catering Aunt Vals Wedding 1955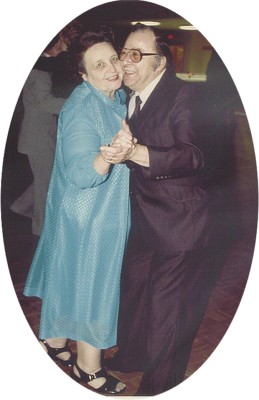 Mom and Dad Dancing at Marcy Mikeska's Wedding 1982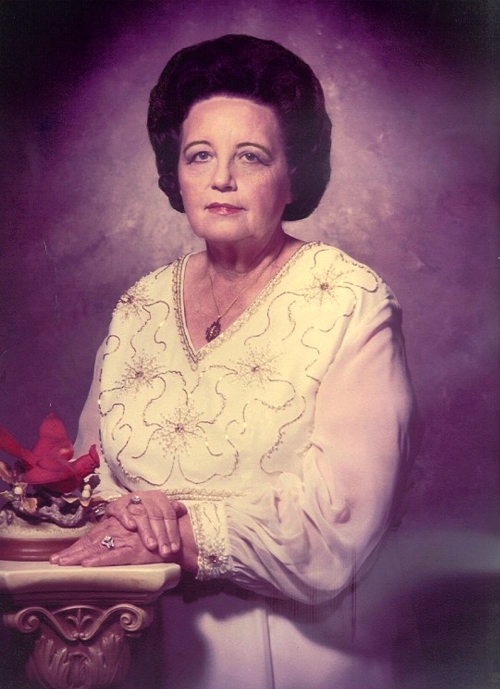 Joy Mikeska, longtime resident of Taylor passed away on Friday morning June 29th, 2001 at Scott & White Hospital in Temple, Texas. Her family was at her side.
Joy was born to Dan and Bessie Hood Marshall on February 19th, 1922 on the Easley Farm in Jonah, Texas. She was the great-granddaughter of Isaac and Sarah Larimore Hood who settled in Williamson County in 1870. Joy's family moved to Taylor in 1930 to manage the Taylor Country Club. She attended Taylor Public Schools and was a graduate of the Taylor High School class of 1940.
She married Rudy L. Mikeska Sr. on January 10th, 1942. Rudy and Joy moved to California where Rudy was stationed during World War II. They returned to Taylor in 1945 to manage the Taylor County Club. They managed the Club for the next 18 years. In 1952, Rudy and Joy started their barbecue business which is still in operation in Taylor. From 1963 to 1973 they owned the famous L & M cafe in downtown Georgetown.
Joy's expertise in event planning, food preparation, and catering is legendary. She stayed active in the family business for 30 years. Her love of cooking is carried on by her children. Joy loved to travel and she also enjoyed her flower garden and caring for the native birds that lived at her home overlooking the Taylor Golf Course, a place where she lived for over 70 years.
She was preceded in death by her husband, Rudy L. Mikeska Sr. on August 9th, 1989. She is survived by her 3 children, daughters, Judy Kaase and her husband Darvin. Mopsie Cavo and her husband Robert. Son, Rudy L. "Tim" Mikeska Jr. and his wife Candy. Her sister, Lanelle Blackman. 7 Grandchildren... David Kaase and his wife Charlene. Bobby, Ryan and Luke Cavo, and Meggie, Rudy III and Timothy Mikeska. and numerous nieces and nephews.
A Rosary will be prayed for Joy on Monday, July 2nd at 7pm at Providence Funeral Home. Mass of the Resurrection will be on Tuesday, July 3rd at 10am at St. Mary's Catholic Church in Taylor. Concelebrating the Mass will be Monsignor Lonnie Urban and Monsignor Arthur Michalka.

"I cannot gather the words to express how I feel at this moment. I am honored to be her son. She gave me life and was the inspiration for my life. Her greatest achievement was her 7 grandchildren. I thank God for the 41 years I had Joy as my Mother. I will miss you and I will see you again. Please hug dad for me"
Tim
The following Text Is From The Eulogy Tim Mikeska Gave At His Mothers Funeral
Momma
I would assume that many of you here present with us today did not know our mother Joy Mikeska. You are here to honor my sisters and I. You do honor us by your presence. For those of you that did not have the honor of knowing our mother, then I suggest you take the best qualities of my sisters and I and you will know Joy Mikeska.
Our mother was a unique woman.
Wisdom, intelligence, strength, character, determination and faith were the essence of Joy Mikeska. For those of you who know Judy, Mopsie and I, take the moments in our lives that impressed you the most and you will have known our mother. Momma and her family had a unique heritage.
Our mothers family came to Williamson County in the 1870's. It is a fascinating account of many hardships in very difficult times on the frontier.... One of our mothers relatives wrote a hymn.... A hymn so powerful that when played ....50,000 people stand up and don't sit back down for another 2 1/2 hours.... Now this hymn is not found in any church hymnal or prayer book.... this hymn is the Fighting Texas Aggie War Hymn....
I realized that Judy, Mopsie and I grew up a lot like Mother did. We grew up on a Hill overlooking Taylor..... our parents worked in a restaurant, we played golf, and learned to swim in the club pool. Now, her grandchildren are doing the exact same thing!!! Just a few weeks ago, Candy, Timothy and I were out swimming at the club and I realized that we were doing the exact same thing that Pappy and Grandma Marshall did with a little girl named Joy and later with little girl named Lanell. I now see my son Rudy and Mopsie's son Luke on the golf course and I realize that's what our Mother did 70 years ago at the very same place!!
Mom was a determined woman. She was way before her time. There was something about our mother that caused you to "never disappoint her". She brought out the "best in you"
One of her long time employees of the L & M cafe in Georgetown stated,. "we worked hard for Mr. Rudy because we loved him like a brother, he was our friend. We worked hard for Ms. Joy because we were scared of her!!. We always wanted to do our best around Ms. Joy".
Determination and conviction were some of Mommas strongest traits. I am living proof of her determination. My real-legal name thanks to my father is Rudy Leonard Mikeska Jr. My mother wanted me to be called Tim..... You see who prevailed... All of you here today know me as Tim. ..... and I'm very proud of that name.
Our Mother and our Father were not only Husband and Wife who deeply loved each other but they were also partners in business. They were very successful. At one time they had 3 barbecue's in Taylor, 1 in Temple the L&M Cafe in Georgetown, and the Taylor County Club. Two teenagers and 3 year old!!!
Now here is something that may surprise you.... My father brought to this partnership his knowledge of meat processing, his leadership his wonderful one-of-a-kind personality and his love for my mother. My mother and her family taught him the rest and the rest is now history!! She was the backbone of our business..... While Dad was in the spotlight...she was in the kitchen. Some of the success of the Mikeska Family that is in the food business today can be traced back to our mother....
Our parents gave us a wonderful home. They cared deeply for us. They worked very hard to give us the things that they did not have in their own youth. Judy, Mopsie and I will carry on those memories forever. I wanted to honor my parents for giving us such a beautiful home.... If you ever drive by our home on Johnson Drive.... please look at the southwest corner of our home and notice in the midst of all the limestone rock....there is one piece of Red Colorado Ledgestone....That stone came from our childhood home on the hill. It is the cornerstone of our home.
Our Mother had a deep faith in God and an eloquent Love of all of Gods creations. She kept a rosary near her and she knew the importance of prayer in our lives. She honored our Dad by becoming Catholic despite the opposition from her Mother. She loved our Dad very much..... She taught us the beauty of the simplest things many of us take for granted. The beauty of a rose....... a wildflower....... a song.... rabbits....squirrels ......birds..... She loved the bluebonnets of the Hill Country, the Wind Swept Leaning Oak Trees at Rockport, The Mountains of Colorado, The Redwoods of California.... She even saw beauty in the deserts of Arizona. She taught us so many things. She taught us that cream style corn is really good when you pour it over bread..... she taught us that dashes of molasses here and there could make the difference in any recipe..... she taught us how to make a meal with karo syrup and butter and bread. The best snack was to eat sliced peaches out of a can she taught us not to be scared of anything.....
Our Eternal Thanks to Aunt Lanny...for being such a loving sister to mom.
Sarah Vargas and her entire family.... Stella, Sandy, Mary....YOU are our family and words cannot express how we feel for you all my dads sisters for their prayers and deep devotion...mom loved you very much....
My brother-in-law Darvin..... who went way beyond the duties of a son-in-law and took such good care of mom Ellen who took care of mom and her home.
Father Lonnie & Father Arthur......Ms. Snider the organist and Ms. Bartosh and the Choir
Her proudest accomplishment was her grandchildren. David.....you were 1st....you came when Mom was young and you had her the longest........ PLUS you GRADUATED from A&M...... You were first to be married...... Mom loved your wonderful wife Charlene
Bobby.....you were like the 1st grandchild because you came 15 years later.....AND you are in A&M
Ryan.....a very special bond....ONLY you and grandma know the love you have for each other
Meggie.....grandma's only girl.....momma took care of you, she saw your 1st walk, your 1st word, your 1st smile
Luke...came in a time when we needed hope the most.... when our dad was dying ....you gave us hope
Rudy.....you came 2 months after our dad Rudy died..... I placed you in Mom's hands the day your mother and I brought you home....and she said Dear Lord Please let me see this boy grow into a man.... Mom got her wish because you are a man.
Timothy.....Momma finally had a grandchild that looked like her!!!! if you look at a picture of our mother when she was 3 and you look at Timothy....you will see they look very much alike....... she was afraid you would forget about her. ....we will never let you forget your grandma
And finally on behalf of Judy ....Mopsie ....and I.....and the Kaase, Cavo and Mikeska Families....we sincerely appreciate all the prayers and words of inspiration.....the food....flowers..... If you want to Honor our Mother....and Judy and Mopsie and I ... we would then ask that you take a moment when you are at peace with any of Gods numerous gifts of nature and say to him.....
Thank you lord..... that on Feb. 19th 1922.... on a farm in Jonah Texas, a little girl was born to Dan and Bessie Marshall .... that little girl became a sister to Lanell, a cousin to many in the Hood and Marshall Family...a loving wife to Rudy...... a wonderful mother to Judy, Mopsie and Tim, a mother-in-law to Darvin, Robert, Patti and Candy, an aunt to many in the Mikeska, Vanecek, Jozwiak and Blackman families.....and a grandmother to David, Bobby, Ryan, Luke, Meggie, Rudy and Timothy.... and for 79 years and 130 days God blessed us with ............Joy....
Rudy L. "Tim" Mikeska Jr.
Diamond Inn Hamburger Count....... Tuesday's Only Total....... 20,652