Headlines August 7th, 2000

The family and I have been on vacation the last few weeks. Here are a few results of a fishing trip to Matagorda Bay....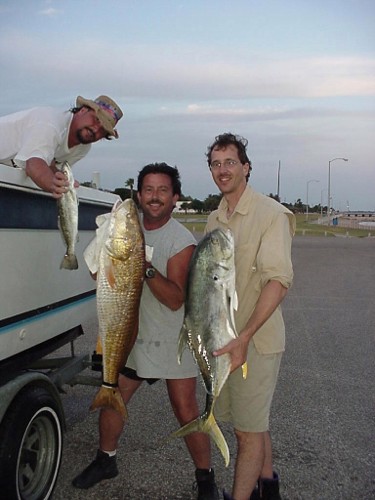 Nick, Tim and Gerry with a few "fresh catches of the day"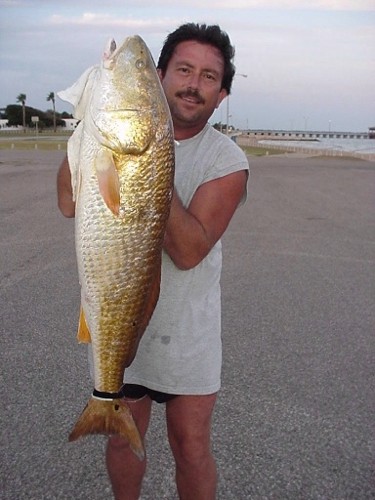 In case your wondering.... I tagged a 42 inch, 31 lb. Redfish......!!!!!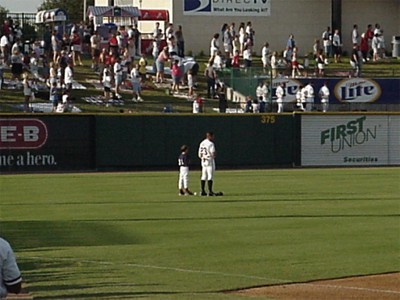 My son, Rudy III had the honor of standing next to Round Rock Express Left Fielder Eric Cole during the National Anthem at an Express Game against the San Antonio Missions.
Bosnia
July 3 to July 5th, 2000
as seen by Tim Mikeska, Taylor Texas
Some more pictures of my visit to Bosnia.......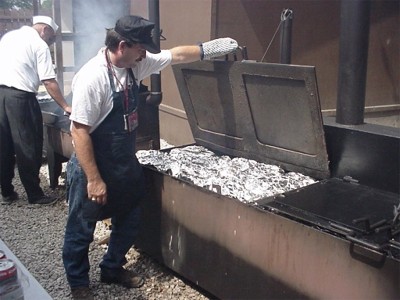 Brown and Root built these pits for our July 4th Bar-B-Q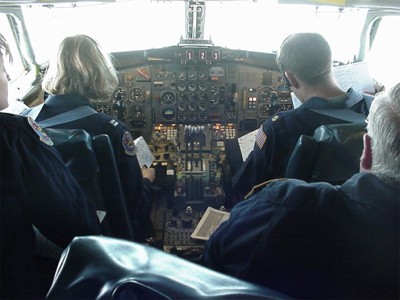 Our very capable flight crew on our long flight to Bosnia ..... (they are piloting a National Guard Bureau Boeing 727-100)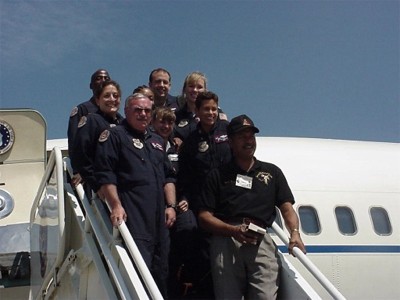 Our flight crew arriving in Washington D.C. and posing with Major General Daniel James

The trip was not a complete hardship..... We were surprised by the Dallas Cowboy Cheerleaders who came to Eagle Base Tuzla, Bosnia to perform for our soldiers.
Special Thanks to Col. Dale Pyeatt (ret.) Of the National Guard Association of Texas.
and to......
Major General Daniel James, Adjutant General of Texas
Major General Raymond Rees, Vice Chief, National Guard Bureau
Major General Robert Halverson, Commanding Officer of Task Force Eagle
The Men and Women of the 49th Armored Division "Lone Star" Eagle Base
The Families of our Guardsmen who are enduring a personal sacrifice
and special thanks...... to the many employers of our National Guardsmen who understand the importance of the mission in Bosnia.
Thanks,
Rudy L. "Tim" Mikeska Jr.
Diamond Inn Hamburger Count....... Tuesday's Only Total....... 7,441


Archive Highlights: 12-29-99..........Hoover Family, Rudy Sr's Prayer Garden, Uncle Maurice

Archive Highlights: 1-15-2000........ Merle Haggard's Wedding
Archive Highlights: 2-14-2000........ A Mikeska Wedding, Sheriff Ed Richards, Crockett High School Sports Banquet

Archive Highlights: 3-2-2000.......... Diamond Inn Hamburgers, More of Gerry's Wedding, BOSNIA yes or no?

Archive Highlights: 3-13-2000....... Baylor University Award, Lent Specials, SnakeShow, Meggie's Scholastic Award, Definition of "Bohemian"
Archive Highlights: 3-25-2000....... Movie at the Mikeska Home, My Children, Candy's Birthday, Military C-130 to California Catering, Some of My Aunts.
Archive Highlights: 4-9-2000.......Serving the Governor at the Capitol, Longhorn Band, Lt. Gov.Rick Perry and Timothy, Astros at Enron Field, Nolan Ryan
Archive Highlights: 4-20-2000......History of our Building, cooking a ton of beans, New Round Rock Express Stadium "Dell Diamond", SP-500 Mobile Pit smoking our famous Pork Loin
Archive Highlights: 5-1-2000.......Mr. Rudy's Grand Champion, Cooking Crawfish, Our Corporate Airplane, Picnic for 3,000,
Archive Highlights: 5-15-2000..... My Grandfather John Mikeska, Mom & Dad in the 1950's, My Dad and I in 1961, Skiing Mikeska Cousins, Bosnia Update
Archive Highlights: 6-10-2000.....San Francisco, Taylor Publishing Party, Rudy's Glazed Brick Pit/Smoker.
Archive Highlights: 6-15-2000.....Texas Barbecue Book, Keith's New McDonalds Franchise, Tribute to Matt Maddox, Bosnia Itinerary.
Archive Highlights:6-27-2000......Stephen & Angie Mikeska's Wedding, Texas A&M University's Stiles Farm Foundation Annual Bar-B-Q.
Archive Highlights:7-10-2000......BOSNIA.... my personal thoughts and my first list of pictures
Archive Highlights:7-18-2000......BOSNIA... more pictures, our July 4th Bar-B-Q at Eagle Base Tuzla, Bosnia
Please remember to click on my Archives Link (below left)