Headlines December 29th 1999
Welcome to our Web site....
This page will be dedicated to recent events and news at our company. Rudy Mikeska's Bar-B-Q Inc. is honored by your interest in this web site. I will strive to keep our customers and our friends informed of current news. We have many friends all over this planet. We invite you to visit this page, and if we cater your event, you may get to see yourself on the World Wide Web!!
My dear wife Candy honored me with a wonderful Christmas gift. She had a "prayer garden" built in remembrance of my father Rudy Sr.
"if tears could build a stairway and memories a lane, I'd walk right up to Heaven and bring you home again...."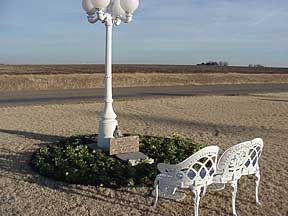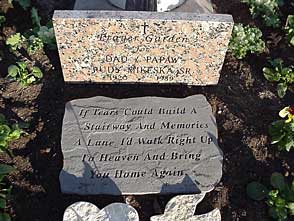 Rudy Mikeska Sr., Dad/Papaw

1920-1989
We catered many Christmas parties in December. This picture shows Capt. Shawn Newsom and Lt. David Mace with the Williamson County Sheriffs Dept. getting an "early jump" on the Roast Beef and Smoked Pork Loin at the County Christmas Luncheon
.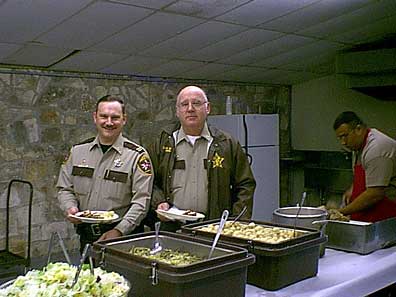 We had a few "special guests" come by Mikeska's today. Mr. Rex Hoover of Los Angeles based Majestic Realty paid us a visit along with Mrs. Hoover and Rex's father, K.R Jr. (Austin Tx.)and grandfather K.R. Sr. (Waco Tx.). Rex was instrumental in getting Rudy Mikeska's out to Las Vegas to cater the Silverton Hotel & Casino's National Finals Rodeo Party. This is a wonderful family and I cherish their friendship.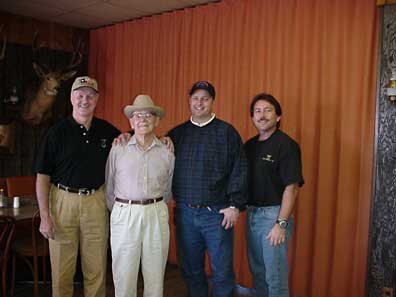 Christmas is a time of hope and joy. I wanted to include this photo of my Uncle Maurice Mikeska who is head of our El Campo based Mikeska Family. We have a special bond that is hard for me to describe. He is loved by all of us.....
I pray that he will enjoy many Christmas's with his family.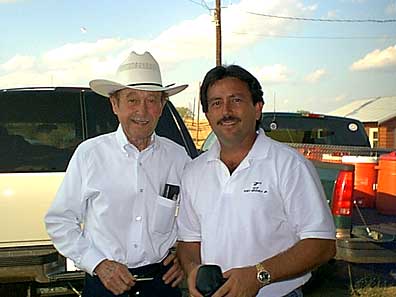 Finally, I want to thank my sister Judy Mikeska Kaase and her husband Darvin. They have dedicated themselves to our business and I am forever grateful. Because of them, I am able to spend more time with Candy, Meggie, Rudy III and Timothy. I have asked them to let me post some pictures of them, but they're a little shy. When you call Rudy Mikeska's Bar-B-Q, it will probably be Judy's voice you will hear. She has over 25 years of Banking and Customer Service experience. Give Judy a call at 1-800-962-5706
Her Father would be very proud of her....
I would like to thank all our dedicated staff at Mikeska's for making 1999 a prosperous year.
Thanks,
Rudy L. "Tim" Mikeska Jr.
P.S. This site is still under construction. We will soon have detailed descriptions of our catered buffets with pictures. Please call us for prices at 800-962-5706.