Headlines August 14th, 2000


Have you seen these outlaws? They are wanted for extorting their father for a lot of money! On the left is "Machine Gun Rudy" age 10..... In the middle is "Money Meggie" age 15 3/4.....On the right is the leader of the gang "TimTim the Hit Man"
age 3... (he is reportedly the "brains" of the gang)
They are to be considered Armed and Dangerous. Apprehend with extreme caution!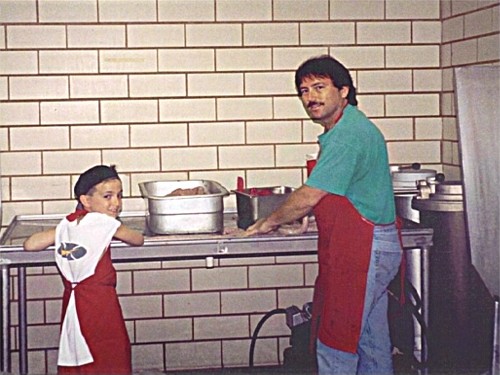 This is Rudy and I making pork sausage. I started making sausage with my dad when I was only 7. We average about 1,400 lbs a week.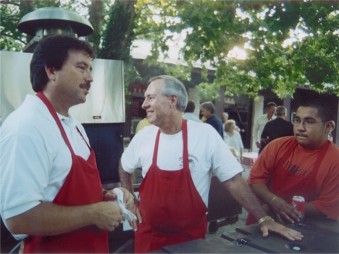 We were again blessed with serving Williamson County Sheriff Ed Richards at the the beautiful Butler Family's River Ranch in Williamson County. This picture shows me along with my dear friend and colleague Carl Stried preparing to get serious with some Tri-Tip Sirloin, Smoked Pork Loin, Smoked Pork Sausage, and Smoked Chicken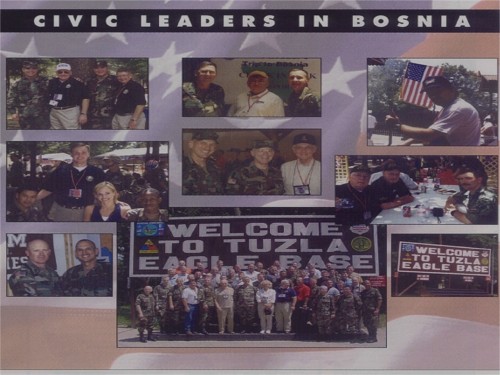 We made the NGAT News Magazine (summer 2000 issue) It has a report on our Bar-B-Q in Bosnia.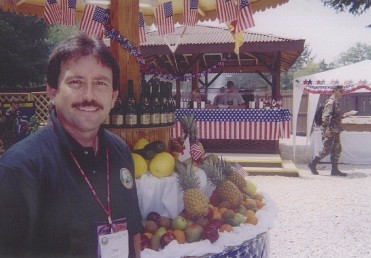 Here I am at the 4th of July Bar-B-Q in Bosnia. This picture was taken by Ms. Mary Frink the Postmaster of Santa Barbara California.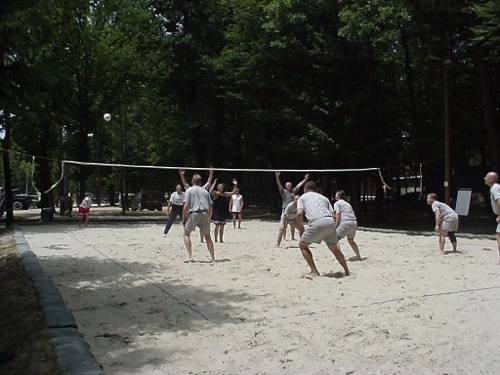 This is something I never thought I would ever see....... United States Soldiers playing a game of volleyball with Russian Soldiers!! The Russians were guests at the July 4th Bar-B-Q in Bosnia. The Americans WON!!!

See you next update......
Thanks,
Rudy L. "Tim" Mikeska Jr.
Diamond Inn Hamburger Count....... Tuesday's Only Total....... 7,916


Archive Highlights: 12-29-99..........Hoover Family, Rudy Sr's Prayer Garden, Uncle Maurice

Archive Highlights: 1-15-2000........ Merle Haggard's Wedding
Archive Highlights: 2-14-2000........ A Mikeska Wedding, Sheriff Ed Richards, Crockett High School Sports Banquet

Archive Highlights: 3-2-2000.......... Diamond Inn Hamburgers, More of Gerry's Wedding, BOSNIA yes or no?

Archive Highlights: 3-13-2000....... Baylor University Award, Lent Specials, SnakeShow, Meggie's Scholastic Award, Definition of "Bohemian"
Archive Highlights: 3-25-2000....... Movie at the Mikeska Home, My Children, Candy's Birthday, Military C-130 to California Catering, Some of My Aunts.
Archive Highlights: 4-9-2000.......Serving the Governor at the Capitol, Longhorn Band, Lt. Gov.Rick Perry and Timothy, Astros at Enron Field, Nolan Ryan
Archive Highlights: 4-20-2000......History of our Building, cooking a ton of beans, New Round Rock Express Stadium "Dell Diamond", SP-500 Mobile Pit smoking our famous Pork Loin
Archive Highlights: 5-1-2000.......Mr. Rudy's Grand Champion, Cooking Crawfish, Our Corporate Airplane, Picnic for 3,000,
Archive Highlights: 5-15-2000..... My Grandfather John Mikeska, Mom & Dad in the 1950's, My Dad and I in 1961, Skiing Mikeska Cousins, Bosnia Update
Archive Highlights: 6-10-2000.....San Francisco, Taylor Publishing Party, Rudy's Glazed Brick Pit/Smoker.
Archive Highlights: 6-15-2000.....Texas Barbecue Book, Keith's New McDonalds Franchise, Tribute to Matt Maddox, Bosnia Itinerary.
Archive Highlights:6-27-2000......Stephen & Angie Mikeska's Wedding, Texas A&M University's Stiles Farm Foundation Annual Bar-B-Q.
Archive Highlights:7-10-2000......BOSNIA.... my personal thoughts and my first list of pictures
Archive Highlights:7-18-2000......BOSNIA... more pictures, our July 4th Bar-B-Q at Eagle Base Tuzla, Bosnia
Archive Highlights:8-7-2000.......BOSNIA.... more pictures, BIG Redfish
Please remember to click on my Archives Link (below left)