Headlines November 19th, 2001

Mikeska Family in the Austin Chronicle
Central Texas Bar-B-Q Dynasties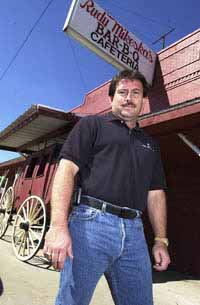 Rudy "Tim" Mikeska
photo by John Anderson
It isn't difficult to understand why the Mikeska clan has been dubbed Texas' First Family of Barbecue. This dynasty, spread over Central Texas and spanning three generations, was founded in the 1920s when John Mikeska, a Czech immigrant in Taylor, operated a "meat club" with his six sons. The family processed cattle, hogs, goats, sheep, and chickens for area farms, in exchange for an allotment of the meat.
After World War II, the Mikeska brothers leveraged their meat-cutting skills into owning butcher shops in various Central Texas towns. They began making sausage and barbecuing unsold meat, and their reputations as pit-men spread.
By 1965, each brother had his own barbecue establishment: Rudy in Taylor, Mike in Smithville, Jerry in Columbus, Louis and Clem in Temple, and Maurice in El Campo. Their sister Val Mikeska Lindeman assisted Clem in Temple, and sister Ann Mikeska Jozwiak owned Taylor's Diamond Inn. Sister Martha Mikeska Vanacek raised Benny and Michael Vanacek, who currently own 18 McDonald's franchises and sit on the McDonald's Operators Board of Directors.
While the brothers shared business ideas, cafeteria service, and décors of mounted game, each developed unique recipes and barbecue styles. Only Rudy prepared lamb ribs, and Clem serves sirloin instead of brisket. Some brothers used live oak; others preferred pecan. Each spiced his sausage differently. With their similar-but-different styles in their separate-but-proximate towns, they all maintained reputations for great barbecue and they've served celebrities from sitting presidents to rock stars.
Today, barbecue remains a Mikeska family affair. While Louis and Mike are deceased and their places in Temple and Smithville have closed, Jerry Mikeska, nearing 80, still runs his own Columbus operation. In El Campo, Laurice Mikeska Vacek, Nick Mikeska, and Gerry Mikeska work with Maurice in the Old Pit, the New Pit, the Lunchbox (in Maurice's original meat market), and the Freeway Location. In Temple, siblings Stephen Mikeska, Anna Mikeska-Payne, and Angela Mikeska Conlan assist Clem in the restaurant, catering, and mail-order business.
In Taylor, Rudy Jr. "Tim" Mikeska and Judy Mikeska Kaase follow in their late father's footsteps, and they've expanded the operation across the globe. Tim served barbecue to England's Prince Philip and in Bosnia; he recently appeared on the Food Network with Bobby Flay.
And the next Mikeska generation? Tim sums it up: "I tell my children what my father told me, 'If you like the business, it's there for you.' I think my uncles and cousins would say the same."
Article: BY MM PACK
Vol. 21 No. 10 * austinchronicle.com * November 9th, 2001
view the Mikeska Family web article at:
www.auschron.com/issues/dispatch/2001-11-09/food_set9.html
The Mikeska Family sincerely appreciates Ms. Pack efforts with this wonderful article. You can read the entire article of all the Central Texas Bar-B-Q Dynasties at:
http://www.auschron.com/issues/dispatch/2001-11-09/food_set.html
New Company Airplane !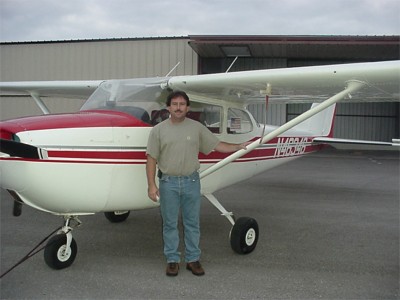 Cessna Skyhawk, Ready to Fly Texas Bar-B-Q Anywhere in the USA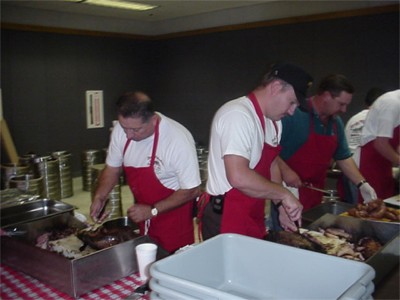 We have been very busy lately... Thankfully !!! Here is a picture of Peter Chapa, Shawn Newsom, and Phillip Wagner, Marvin Vrana, Sam Fox, and Mary Chapa cutting meat for 3,000 guests!

"Family Time"

My dad is shown holding his only granddaughter, my daughter Meggie.
The inset picture is her confirmation at St. Marys in Taylor by Bishop Aymond
This is the same church her grandfather and father were confirmed.
I know he's very proud of her. (so am I....)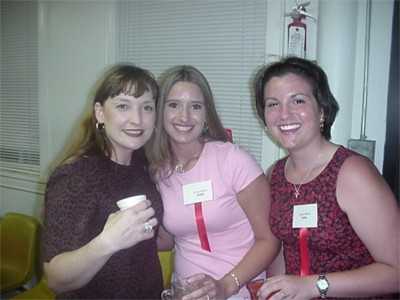 After the confirmation Mass, Meggie takes a picture with Candy Mikeska and her cousin Kristen Bubenik who was also confirmed.
A Hunting Story......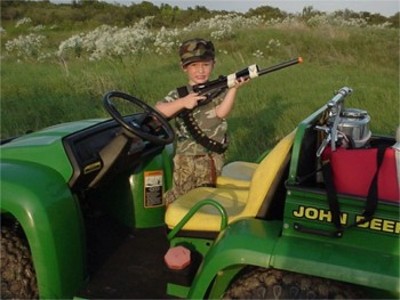 First, you have the excited 4 year old ready for anything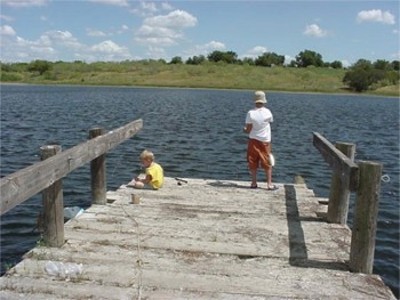 Then, you have the 4 year old learning to fish on Dad's lake with is 12 year old brother.

Finally, with the excitement over, little Timothy dreams of his next adventure....
I want to again thank everyone for the hundreds of e-mail's and words of sympathy regarding the loss of our mother, Joy Mikeska.
Rudy L. "Tim" Mikeska Jr.
Diamond Inn Hamburger Count....... Tuesday's Only Total....... 24,510


Archive Highlights: 12-29-99..........Hoover Family, Rudy Sr's Prayer Garden, Uncle Maurice
Archive Highlights: 1-15-2000........ Merle Haggard's Wedding
Archive Highlights: 2-14-2000........ A Mikeska Wedding, Sheriff Ed Richards, Crockett High School Sports Banquet
Archive Highlights: 3-2-2000.......... Diamond Inn Hamburgers, More of Gerry's Wedding, BOSNIA yes or no?
Archive Highlights: 3-13-2000....... Baylor University Award, Lent Specials, SnakeShow, Meggie's Scholastic Award, Definition of "Bohemian"
Archive Highlights: 3-25-2000....... Movie at the Mikeska Home, My Children, Candy's Birthday, Military C-130 to California Catering, Some of My Aunts.
Archive Highlights: 4-9-2000.......Serving the Governor at the Capitol, Longhorn Band, Lt. Gov.Rick Perry and Timothy, Astros at Enron Field, Nolan Ryan
Archive Highlights: 4-20-2000......History of our Building, cooking a ton of beans, New Round Rock Express Stadium "Dell Diamond", SP-500 Mobile Pit smoking our famous Pork Loin
Archive Highlights: 5-1-2000.......Mr. Rudy's Grand Champion, Cooking Crawfish, Our Corporate Airplane, Picnic for 3,000,
Archive Highlights: 5-15-2000..... My Grandfather John Mikeska, Mom & Dad in the 1950's, My Dad and I in 1961, Skiing Mikeska Cousins, Bosnia Update
Archive Highlights: 6-10-2000.....San Francisco, Taylor Publishing Party, Rudy's Glazed Brick Pit/Smoker.
Archive Highlights: 6-15-2000.....Texas Barbecue Book, Keith's New McDonalds Franchise, Tribute to Matt Maddox, Bosnia Itinerary.
Archive Highlights:6-27-2000......Stephen & Angie Mikeska's Wedding, Texas A&M University's Stiles Farm Foundation Annual Bar-B-Q.
Archive Highlights:7-10-2000......BOSNIA.... my personal thoughts and my first list of pictures
Archive Highlights:7-18-2000......BOSNIA... more pictures, our July 4th Bar-B-Q at Eagle Base Tuzla, Bosnia
Archive Highlights:8-7-2000.......BOSNIA.... more pictures, BIG Redfish
Archive Highlights:8-14-2000 ......Mikeska Kids:"Wanted Poster", Rudy III and Tim making "Mikeska Brand" sausage, few more BOSNIA pictures
Archive Highlights:8-28-2000.......The "Quiet Birdmen", Mikeska's 22nd Annual Taylor International BBQ Cookoff Judges Party, Our meat selections,
Archive Highlights:9-17-2000.......Westlake High School's 1,400 guests at the Stadium, Ribs Served Hot Off The Pit, Happy Birthday Mike Vanecek
Archive Highlights:9-25-2000.......Texas National Guard Family Readiness Dinner, Soldiers Return From Bosnia, One Last Picture From Bosnia
Archive Highlights:10-3-2000......Sunbelt Rentals Catfish Buffet, Tim Mikeska....appointed to the Board of Health.
Archive Highlights:10-18-2000......Rudy Mikeska's Featured in United Airlines Hemispheres Magazine, Taylor High School "Ducks" Homecoming Lunch, Zimmerhanzel-Altman Wedding
Archive Highlights: 10-24-2000......Complete Coverage of the Zimmerhanzel Altman Wedding.
Archive Highlights: 11-1-2000......Food Network's Food Nations Program Announcement with Tim Mikeska, Texas Heritage Coalition Event at the State Capitol, Agriculture Commissioner Susan Combs visits Rudy Mikeska's Bar-B-Q.
Archive Highlights: 11-12-2000......Pictures of the Filming of Food Network's FoodNations Program with Chef Bobby Flay
Archive Highlights: 11-28-2000......Press Reports of the Food Networks "FoodNations" Program, Las Vegas Catering Pictures
Archive Highlights: 12-3-2000.......Texas Army National Guards Bosnia Homecoming Party, Tim with U.S. Senator Kay Bailey Hutchison
Archive Highlights: 1-1-2001........Christmas and New Years Wishes, City of Taylor's Christmas Party,Williamson County Judges Christmas Party
Archive Highlights: 2-1-2001.......Food Networks FoodNations Program Air Date, Happy 16th Birthday Meggie Mikeska, THS Sophomore Class Catfish Dinner Fundraiser, Vanecek Family's Superbowl Party Pictures.
Archive Highlights: 3-1-2001.......Food Networks 5th Replay of FoodNations Program and Show Schedule, Temple College Mardi Gras Event Fundraiser, Smoked Pork Loin, Joy Mikeska's Shrimp Gumbo
Archive Highlights:4-1-2001.......Tim Mikeska Awarded the "Texas Eagle Award" in ceremony at Houston's Adams Mark Hotel, Small Business Bar-B-Q at the State Capitol
Archive Highlights:5-1-2001.......Serving the Texas State Legislature, House Speaker Pete Laney, Del Webbs Sun City Event, New Austin Convention Center "Topping Out" Party, Schwertner Farms: "Quiet Birdmen"
Archive Highlights:6-1-2001.......Serving the Governor of Texas, Hyde Park Baptist Church Quarries, Dell Computer Event, TXDOT Fish Fry at Camp Mabry, Making Cherry Plum Jelly, Mikeska's Picked as an Official Yahoo! Site.
Archive Highlights: 8-1-2001......Tribute to Our Mother, Joy Aline Mikeska 2-19-1922 - 6-30-2001, Obituary and Eulogy by Tim Mikeska
Archive Highlights: 9-26-2001..... Picture Tribute for 9-11-01, Catering the Texas Task Force One Return From New York Rescue Homecoming Event, with Senator Barrientos and old friend Rescue Specialist, Rod Dennison
Please remember to click on my Archives Link (below left)