Headlines July 10th, 2000

Bosnia
July 3 to July 5th, 2000
as seen by Tim Mikeska, Taylor Texas
As I begin this summary of recent events in my life, I must reflect upon my past 40 years as an element of our human race. There have been only a few major episodes in my life that I always reflect upon that were remarkable. The marriage to my wife Candy, the birth of my 3 children, witnessing God saving my Uncle Maurice's life, and the loss of my father. The last 3 days have not only become permanent in my memory, but they have enriched my life forever. In the daily rush of my life, I had taken for granted the many blessings that God has bestowed upon me. This journey to Bosnia was an enlightening experience.
I will not bore you with the details of the circumstances that led to my visit to Eagle Base, Tuzla Bosnia. It's much more important to inform you of my conclusions. The significant lessons I experienced deal with these topics.... The role of the American soldiers at Eagle Base, the soldiers incredible sacrifice for their country, the purpose and determination to accomplish their mission, and finally, the people of Bosnia and the terrible hardships they face. You may now wonder what within these episodes would be so "life-changing" for me. It was not one specific episode. It was a combination of all of them.
The Soldiers of the 49th Armored Division.
I have always heard the phrase.... "duty, honor and country....." when describing American soldiers from whatever period in our history they served in. I now fully understand what that phrase means. The soldiers of the 49th Armored Division in Bosnia are not only highly qualified combat and support personnel, they are an extension of the beliefs and the hopes of all Americans. These soldiers invoke a unique strength and determination to maintain order and peace is a county devastated by hundreds of years of conflict and hatred. Their understanding of the words..... freedom, democracy and peace are exhibited by their confidence in the mission they have.
This deployment is an historic event. It is the first time in our country's history that Texas Army National Guardsmen have commanded regular army troops overseas. In my 3 days in Bosnia I was able to talk to many of our Texas soldiers. They truly feel for these people. They are determined to fulfill their mission under the guidance of Major General Robert Halverson. The unique skills and leadership abilities of these "citizen soldiers" are apparent in their expertise in handling their day to day tasks. The National Guardsmen of the 49th Armored Division have the ability to understand situations that career soldiers may not. They see the "humanity" in their purpose.
Their Sacrifice.
I had a chance to see how these soldiers lived and worked. Eagle Base is comfortable but it's not like home. They must endure long days in dangerous conditions. Many mine fields are still present near the base. The outlying camps and fire bases in Bosnia are still very hazardous. They are in the heart of the country where most of the fighting took place. Everyday they patrol the countryside not only to enforce the peace but to aid the people of these destroyed villages. I witnessed two separate events where our armed military escorts knew young children in Srevbrenica. I saw in these soldier eyes their feelings for these children. This long deployment is a burden to their employers in Texas and to the soldiers families.
Their Mission.
The history of this war is difficult to explain. In an attempt to understand my surroundings, I had read numerous print articles describing the religious and political conflict. Regardless of everything you might have read or heard about this war it boils down to one singular theme .....hatred. We witnessed areas where Christian and Orthodox churches and Muslim mosques were completely destroyed by opposing forces. They did not just destroy the buildings, they desecrated and dismantled them. There were large bare ground areas where our escorts informed us a church or mosque once stood. The Serbians, Croats and Bosnians destroyed each others homes so they would never be livable again. They even went so far as to remove the water pipes in the ground. In my opinion, hatred for your fellow man was a fundamental motive for this war. Hatred, combined with the political and religious differences formed the foundation for war. This "hatred" has existed for hundreds of years. This makes our soldiers job as peacekeepers very difficult. Assisting homeless refugees, boundary disputes, humanitarian aid and supervision of local democratic elections are just some of the responsibilities of the soldiers of Task Force Eagle.
The People of Bosnia - Herzegovina.
During our stay in Bosnia we traveled to Srevbrenica and other outlying villages. As we traveled we noticed a distinctive element within these villages. There were very few adult males from the ages of 21 to 60. Our military escorts had informed us that the majority of these men were missing and presumed massacred. We visited a horrific place where it was very evident that many people were lined up against a wall and shot. The wall was pocketed with bullet holes and the weed filled area near the wall was littered with human bones and tattered clothes. We noticed a tranquil river near the Serbian border. Someone in our group commented on the beauty of the river. Our escorts informed us that during the war the water flow near the dam was restricted by hundreds of bodies of women who were thrown off a cliff into the river.
In America, we occasionally hear the words... "quality of life" to describe the benefits of a certain area or city. This term deals with the many advantages certain communities can proclaim as being superior to other areas in our country. Recreation, affordable housing, medical facilities, fire and police protection, and job opportunities are just some of the factors dealing with "quality of life". These factors are almost nonexistent in Bosnia. The economy has been devastated by war. I had the opportunity to work one day with 8 local residents of Tuzla. They were cooks and translators that work feeding the soldiers at Eagle Base. These local Bosnians are thankful for the chance to work for $ 1.00 per hour. They work hard and take pride in the products they serve. They know they are fortunate to have a job. In my opinion, "quality of life" begins with a job. It is the foundation to personal happiness. Bosnians have little opportunity to attain this since few jobs exist.
Conclusion.
I wish I could better convey my thoughts about this visit. At times, my emotions got the best of me. I had a chance to visit with an Army Chaplain at Eagle Base. We both reflected on the hardships the Bosnian people face. Those hardships, along with the pride I had for our Texas soldiers performing their duty became an emotional issue with both of us. Since his deployment 6 months ago the Chaplain had lost sight of the issues that I had just witnessed. He actually told me that I had inspired him!
When I returned home to my family, I reflected on the time I spent 5,000 miles away in Bosnia. I considered all the opportunities we have in America and the benefits of our democratic society. I see things much more clearly now. I am grateful for the numerous blessings God has bestowed upon me and my family. I am grateful for the Texas soldiers in the 49th Armored Division. Their commitment to their country and their honorable role as peacekeepers.
"Blessed are the peacekeepers, for they will be called sons of God."


Matthew 5:9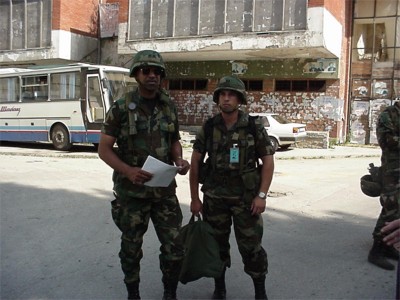 Major General Daniel James, the Adjutant General of Texas with his aid Captain Dubish in Srevbrenica, Bosnia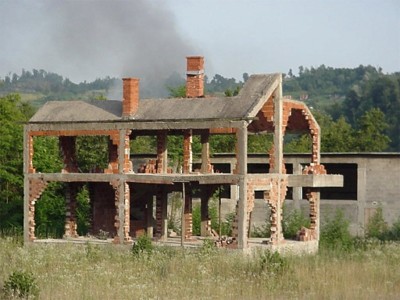 Ruins of someone's home near the village of Sultanovici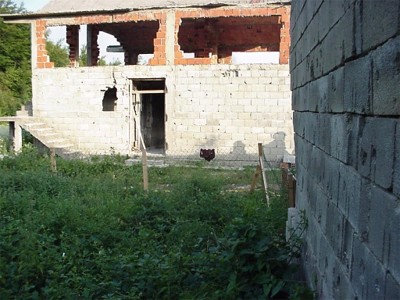 An execution site and mass grave..... notice the bullet holes on the walls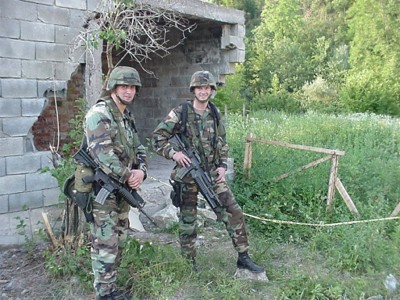 Our heavily armed security detail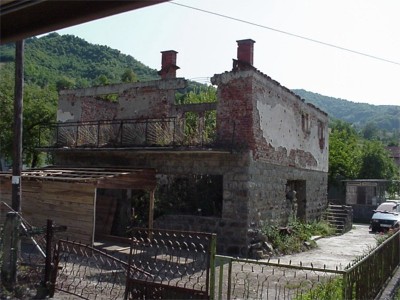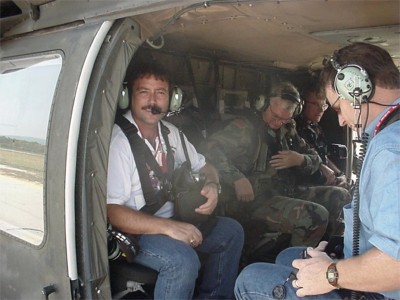 We traveled to the outlying villages by Army National Guard UH-60 Blackhawk Helicopters.
More pictures to follow in next update.....
Special Thanks to Col. Dale Pyeatt (ret.) Of the National Guard Association of Texas.
and to......
Major General Daniel James, Adjutant General of Texas
Major General Raymond Rees, Vice Chief, National Guard Bureau
Major General Robert Halverson, Commanding Officer of Task Force Eagle
The Men and Women of the 49th Armored Division "Lone Star" Eagle Base
The Families of our Guardsmen who are enduring a personal sacrifice
and special thanks...... to the many employers of our National Guardsmen who understand the importance of the mission in Bosnia.
Thanks,
Rudy L. "Tim" Mikeska Jr.
Diamond Inn Hamburger Count....... Tuesday's Only Total....... 6,577


Archive Highlights: 12-29-99..........Hoover Family, Rudy Sr's Prayer Garden, Uncle Maurice

Archive Highlights: 1-15-2000........ Merle Haggard's Wedding
Archive Highlights: 2-14-2000........ A Mikeska Wedding, Sheriff Ed Richards, Crockett High School Sports Banquet

Archive Highlights: 3-2-2000.......... Diamond Inn Hamburgers, More of Gerry's Wedding, BOSNIA yes or no?

Archive Highlights: 3-13-2000....... Baylor University Award, Lent Specials, SnakeShow, Meggie's Scholastic Award, Definition of "Bohemian"
Archive Highlights: 3-25-2000....... Movie at the Mikeska Home, My Children, Candy's Birthday, Military C-130 to California Catering, Some of My Aunts.
Archive Highlights: 4-9-2000.......Serving the Governor at the Capitol, Longhorn Band, Lt. Gov.Rick Perry and Timothy, Astros at Enron Field, Nolan Ryan
Archive Highlights: 4-20-2000......History of our Building, cooking a ton of beans, New Round Rock Express Stadium "Dell Diamond", SP-500 Mobile Pit smoking our famous Pork Loin
Archive Highlights: 5-1-2000.......Mr. Rudy's Grand Champion, Cooking Crawfish, Our Corporate Airplane, Picnic for 3,000,
Archive Highlights: 5-15-2000..... My Grandfather John Mikeska, Mom & Dad in the 1950's, My Dad and I in 1961, Skiing Mikeska Cousins, Bosnia Update
Archive Highlights: 6-10-2000.....San Francisco, Taylor Publishing Party, Rudy's Glazed Brick Pit/Smoker.
Archive Highlights: 6-15-2000.....Texas Barbecue Book, Keith's New McDonalds Franchise, Tribute to Matt Maddox, Bosnia Itinerary.
Archive Highlights:6-27-2000......Stephen & Angie Mikeska's Wedding, Texas A&M University's Stiles Farm Foundation Annual Bar-B-Q.
Please remember to click on my Archives Link (below left)