Headlines April 20th, 2000
Over the years many people have asked me about the building that we occupy in downtown Taylor. We currently own 9 tenths of a city block. Our building is a former Safeway Food Store that was built in the 1920's. After Safeway built another foodstore on Vance street, the building became a warehouse for Taylor Bedding Company. Part of the building was also used as a plumbing warehouse. My father purchased the building in 1971 after selling the famous L&M cafe in Georgetown. He combined all of his bar-b-q "joints" into one large operation. After almost 1 year of remodeling, we opened the restaurant and catering complex in 1972. This is well built building that I hope will continue to serve our faithful customers for a long time.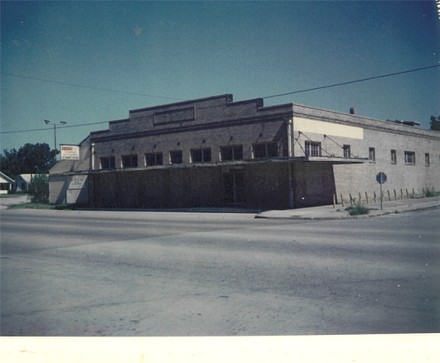 This photo was taken right before dad purchased the building from Taylor Bedding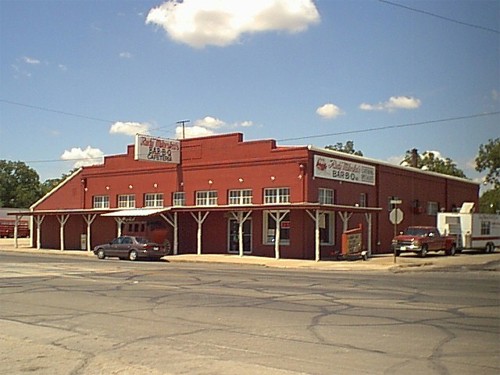 Same building 30 years later. My dad loved the color red. We still use the color to honor his memory.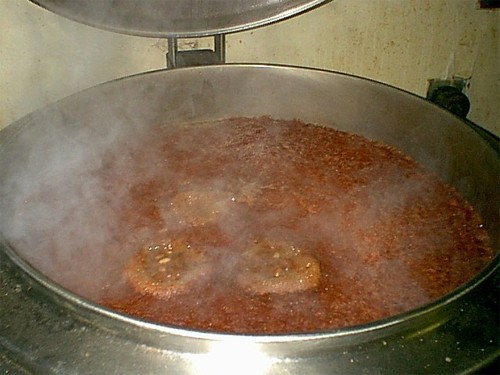 How do you cook pinto beans for 20,000 guests? At Rudy Mikeska's we use state-of-the-art stainless steel Groen steam kettles that hold 60 gallons of beans. We have 5 of these steam kettles that can cook 1 ton of beans every 5 hours!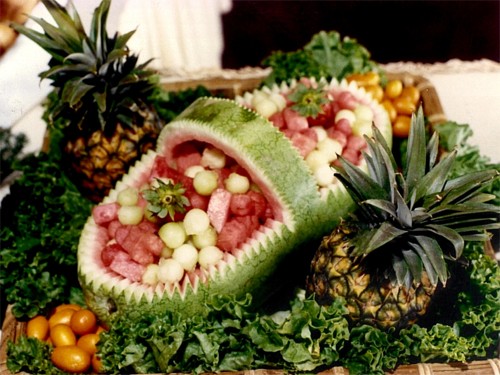 When I was child watching my father in the kitchen, I was amazed at the things he could do with a carving knife. This is one of my watermelon baskets that I carved for a cocktail party.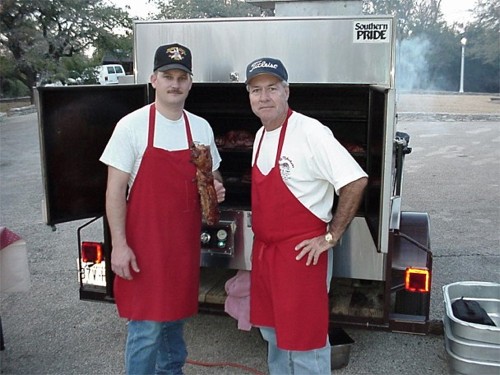 Here is Shawn Newsom and my old friend Carl Streid checking the tenderness of a boneless pork loin smoking on our mobile SP-500 pit. We were catering at the beautiful River Ranch owned buy Austin business man and former Mayor Mr. Roy Butler.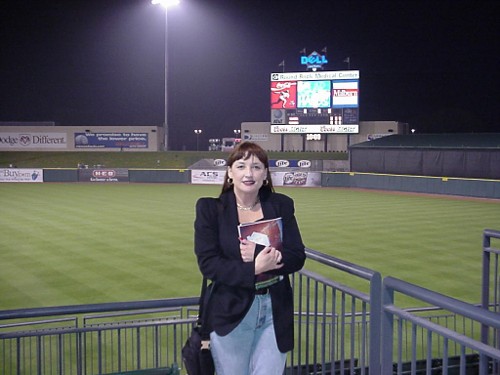 We have a new ball park only 12 miles from Taylor! Reid and Nolan Ryan built a beautiful facility called Dell Diamond. I was fortunate enough to cater the official "topping out" party. This is an amazing park that is now home to the Round Rock Express, Houston Astros AA affiliate. Call us if you would like for us to cater a tailgate party for you.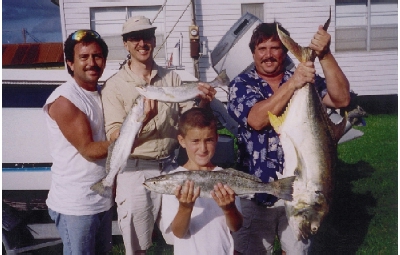 Not only can we cook them.......but we have been known to catch a few!!!
Bosnia Update
This week I received my official "orders" for the trip to Bosnia in July. I am thrilled and a little scared about the chance to serve an event located in a war zone. Our 1,500 Texas Army National Guard members are doing a fine job at Eagle Base. I look forward to seeing them and telling them we are all grateful for their devotion and service. My Grandmother Francis Mikeska was a 4 star mother during World War II. She had 4-gold stars located on the exterior of the Mikeska farmhouse. My uncles Mike, Louis, Jerry and my father Rudy all served in World War II. My younger uncles Maurice and Clem served overseas during the Korean War. My family believes in service to their country. I hope that this event will show my family's continued support of service to our country. I will keep you informed.
Thanks,
Rudy L. "Tim" Mikeska Jr.
Diamond Inn Hamburger Count.......11th Tuesday Total....... 3,452
(I'm starting to count these in the hope that one day we can have a sign that reads.....Billions and Billions Served!).

Archive Highlights: 12-29-99..........Hoover Family, Rudy Sr's Prayer Garden, Uncle Maurice

Archive Highlights: 1-15-2000........ Merle Haggard's Wedding
Archive Highlights: 2-14-2000........ A Mikeska Wedding, Sheriff Ed Richards, Crockett High School Sports Banquet

Archive Highlights: 3-2-2000.......... Diamond Inn Hamburgers, More of Gerry's Wedding, BOSNIA yes or no?

Archive Highlights: 3-13-2000....... Baylor University Award, Lent Specials, SnakeShow, Meggie's Scholastic Award, Definition of "Bohemian"
Archive Highlights: 3-25-2000....... Movie at the Mikeska Home, My Children, Candy's Birthday, Military C-130 to California Catering, Some of My Aunts.
Archive Highlights: 4-9-2000.......Serving the Governor at the Capitol, Longhorn Band, Lt. Gov.Rick Perry and Timothy, Astros at Enron Field, Nolan Ryan
Please remember to click on my Archives Link (below left)