Mikeska Wedding



St. Mary's Church in Temple was the setting for another joyous wedding in our family. Cousin Stephen and his bride Angie celebrated a new beginning in their lives. I was honored to be asked to be a groomsman.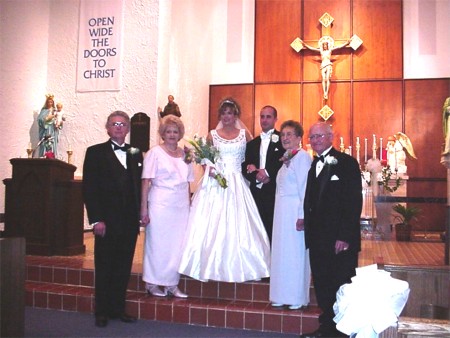 The Barr and Mikeska Family gathered for pictures with newly weds Stephen and Angie.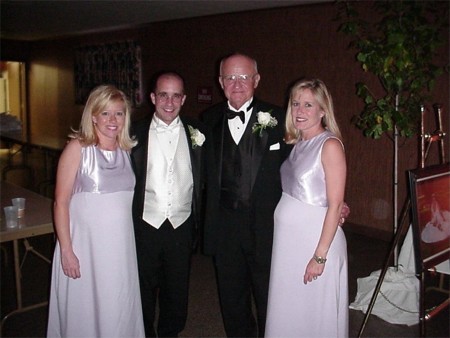 Here is Stephen with his dad Clem and two VERY pregnant sisters Anna and Angela. This family is responsible for all the great Mikeska Barbecue that comes from Clem Mikeska's Bar-B-Q in Temple Texas.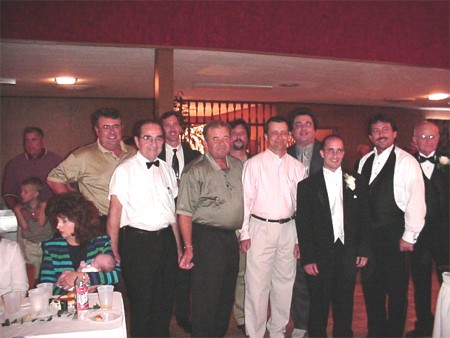 The "Mikeska Men"
Mike, Jerry, Gerry, Benny, Nick, Mark, Gregory, Stephen, Tim and Clem

As Uncle Clem would say......" there's only going to be two people talking
............................................ and I'm going to be both of them!"
Uncle Clem offers his business expertise to his nephew Mike Vanecek, who owns ALOT of McDonalds restaurants in the DFW area.
Stiles Farm Foundation Annual Barbecue

For many years, Rudy Mikeska's Bar-B-Q has been honored to cater Texas A&M University's Stiles Farm Foundation Field Day in Thrall Texas.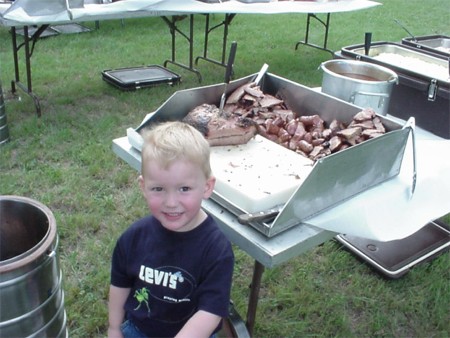 Here is Timothy wanting to help his Dad cut Mikeska's Brisket and Smoked Pork Sausage.
Final Bosnia Update
I received my final e-mail from Eagle Base Tuzla, Bosnia. The beef briskets arrived this week and all the ingredients are now "in country". All we have to do now is get me "in country" and start cooking for our Texas soldiers. I am excited about this opportunity to serve these soldiers. I ask that you say a little prayer for a safe journey for myself and the VIP dignitaries on board our long flight.
Until I get back into the United States..... there will be no further updates on my "News" page.
Thanks,
Rudy L. "Tim" Mikeska Jr.
Diamond Inn Hamburger Count....... Tuesday's Only Total....... 5,889


Archive Highlights: 12-29-99..........Hoover Family, Rudy Sr's Prayer Garden, Uncle Maurice

Archive Highlights: 1-15-2000........ Merle Haggard's Wedding
Archive Highlights: 2-14-2000........ A Mikeska Wedding, Sheriff Ed Richards, Crockett High School Sports Banquet

Archive Highlights: 3-2-2000.......... Diamond Inn Hamburgers, More of Gerry's Wedding, BOSNIA yes or no?

Archive Highlights: 3-13-2000....... Baylor University Award, Lent Specials, SnakeShow, Meggie's Scholastic Award, Definition of "Bohemian"
Archive Highlights: 3-25-2000....... Movie at the Mikeska Home, My Children, Candy's Birthday, Military C-130 to California Catering, Some of My Aunts.
Archive Highlights: 4-9-2000.......Serving the Governor at the Capitol, Longhorn Band, Lt. Gov.Rick Perry and Timothy, Astros at Enron Field, Nolan Ryan
Archive Highlights: 4-20-2000......History of our Building, cooking a ton of beans, New Round Rock Express Stadium "Dell Diamond", SP-500 Mobile Pit smoking our famous Pork Loin
Archive Highlights: 5-1-2000.......Mr. Rudy's Grand Champion, Cooking Crawfish, Our Corporate Airplane, Picnic for 3,000,
Archive Highlights: 5-15-2000..... My Grandfather John Mikeska, Mom & Dad in the 1950's, My Dad and I in 1961, Skiing Mikeska Cousins, Bosnia Update
Archive Highlights: 6-10-2000.....San Francisco, Taylor Publishing Party, Rudy's Glazed Brick Pit/Smoker.
Archive Highlights: 6-15-2000.....Texas Barbecue Book, Keith's New McDonalds Franchise, Tribute to Matt Maddox, Bosnia Itinerary.
Please remember to click on my Archives Link (below left)