Headlines February 14, 2000

Allot of activity in the Mikeska Family since my last "News" update. We traveled to Las Vegas for the big Super Bowl Party at the Las Vegas Hilton. We had a few "pre-marriage" celebrations for my cousin Gerry, we had a busy January catering numerous fall sports banquets and we celebrated the marriage of Gerry Mikeska to Donna Anderson in El Campo Texas.

The Fall Sports Banquet at Austin's Crockett High School.
Here is the best part of the Chicken Fried Steak Dinner.... The Banana Pudding!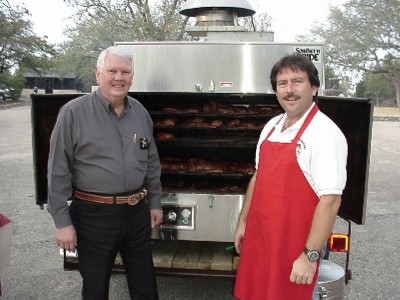 Williamson County Sheriff Ed Richards inspects his Boneless Pork Loin smoking on Mikeska's Mobile SP-500 pit at Roy Butlers beautiful River Ranch north of Austin.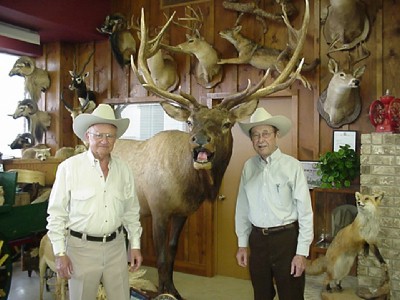 My uncles Clem (from Temple) and Maurice (El Campo) next to Maurice's giant imperial bull elk that he harvested near Dulce New Mexico.
This is an example of the abundant wildlife that is on display in the Mikeska Family
Restaurants across the State of Texas. This is displayed at Mikeska's Bar-B-Q and Smokehouse on highway 59 in El Campo.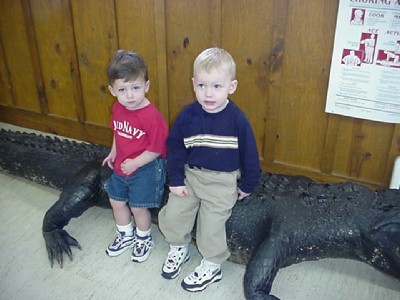 "Two 2nd Cousins sitting on an Alligator"
Garrett Conlan and my son Timothy Mikeska
perched upon Uncle Maurice's 15ft Alligator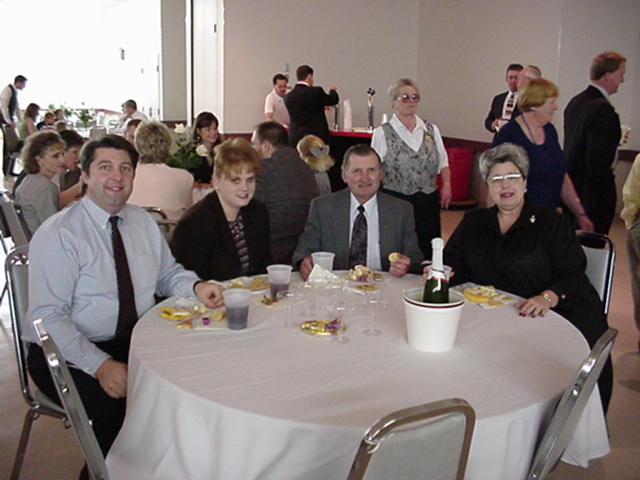 As promised, I finally got a picture of my sister Judy with her family.
Son, David with his wife Charlene, Husband Darvin and Judy
Celebrating with all the Mikeska's at Gerry & Donna's wedding.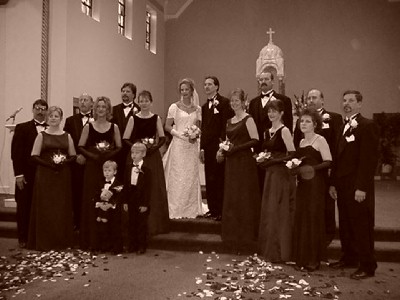 Mr. and Mrs. Gerry Mikeska with their wedding party. (Sepia Filter Effect)
St. Phillips Catholic Church in El Campo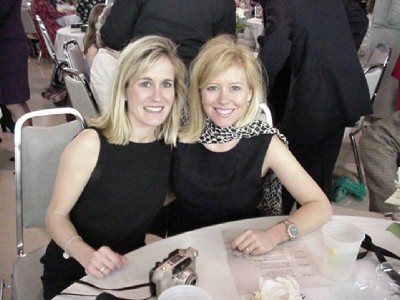 Two of my beautiful cousins...
Angela Mikeska Conlan and Anna Mikeska Payne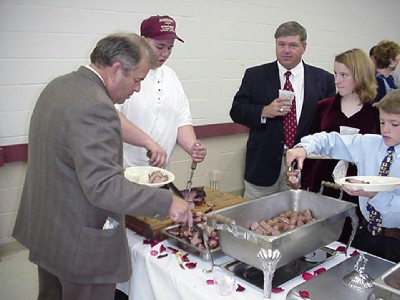 My cousin Benny Vanecek, who owns McDonalds Franchises in El Paso
gets some of the Famous Mikeska Family's Beef Brisket, Pork Sausage and Smoked Pork Loin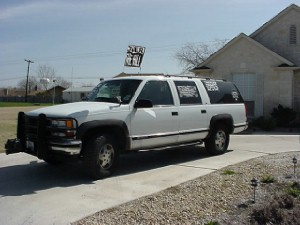 Yes, it's my birthday!
The wonderful staff at the City of Taylor decorated my suburban today in honor of my 40th birthday. They gave me a cake with "too many" candles and some "neat" gifts honoring my old age. Thanks to everyone at City Hall.... especially Anita and Beverly, Fire Chief Haywood Stanford and City Manager Frank Salvato.

I will have more pictures of the Gerry's wedding and a "few" of the parties that preceded it on my next update. There have been too many funerals and not enough weddings in our family recently. My father Rudy Mikeska Sr. always said that we were a "hard working family but we also played hard too!"
I sincerely appreciate all the positive e-mail I am receiving about this site. I am completely overwhelmed with the feedback. I'm still some 50-75 e-mail's behind but I promise to answer every single one. Please call us at 1-800-962-5706 if you have any questions.

Thanks,
Rudy L. "Tim" Mikeska Jr.
P.S. don't forget to visit my past news archives at the bottom left of this page.