Headlines October 18th, 2000

We have been very busy the last few weeks!

Rudy Mikeska's was fortunate to have served the Zimmerhanzel and Altman families with one of the most prestigious weddings Central Texas has ever seen. We will dedicate the next update with full coverage of this extraordinary wedding. Our fall and winter bookings have been staggering. We have over 10 closed dates in the months of November and December. This next Saturday, we will catering for over 2,000 guests at the Texas Heritage March on the grounds of the State Capitol in Austin. We have also been asked to serve several events related to the COMDEX show in Las Vegas. Last week I received some magazines from my Los Angeles friend....Rex Hoover (Majestic Realty), featuring an article on "Texas Barbecue". Rudy Mikeska's was featured in the United Airlines September 2000 Hemispheres Magazine.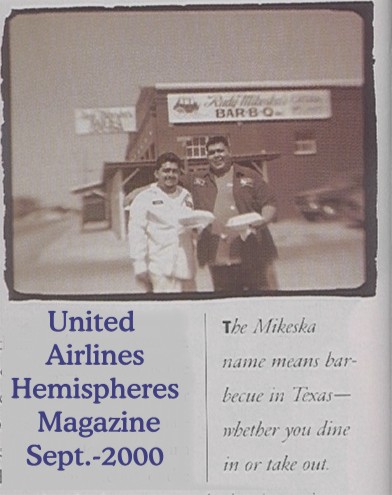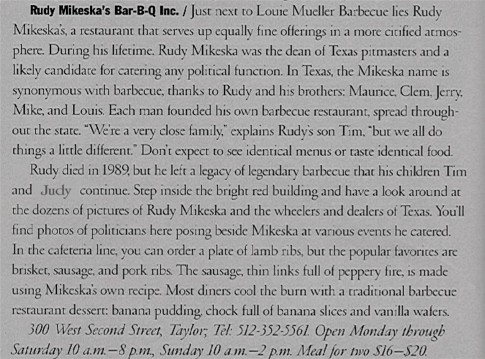 Thanks to United Airlines and writers:
Paris Permenter and John Bigley!
Once a Duck..... Always a Duck !!!!

Rudy Mikeska's Catered the Taylor High School's Homecoming Party last Friday. (almost 300 Ducks!)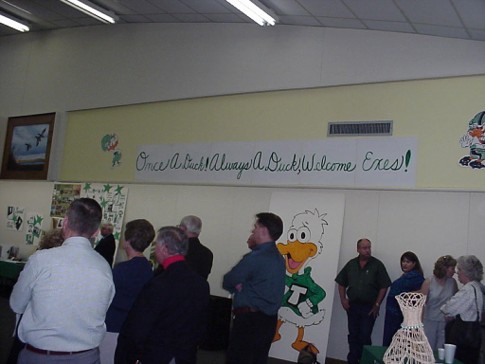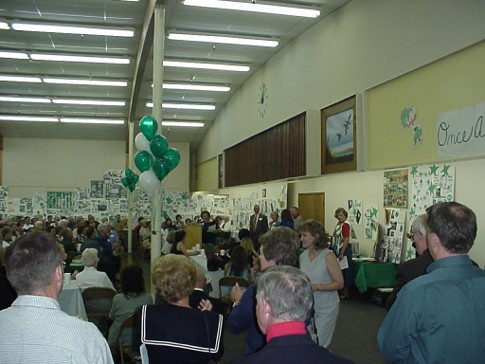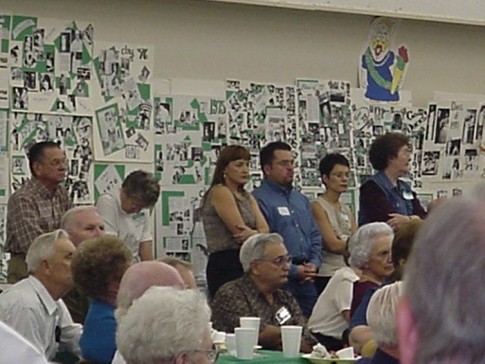 The beautiful brown haired woman in the middle is my wife Candy (class of 1980)
To her left in her brother Jim (class of 1985) and the man sitting in front of them is their father Moe (class of 1950) They celebrated their 20, 15 and 50 year reunions respectfully.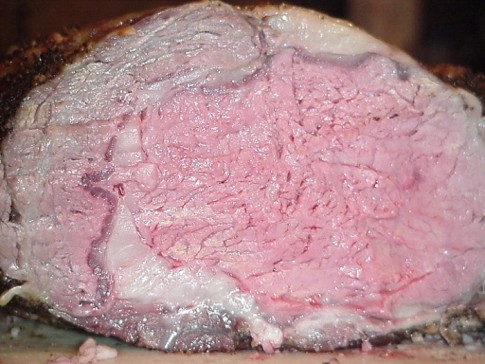 This is a picture of the Prime Rib we served at the Zimmerhanzel - Altman wedding last Saturday. The brides parents, Jamie and Pete Zimmerhanzel were partners in the famous Taylor Meat Company. A local meat processing plant and retail market with 50+ years of quality service to thousands of customers in Texas. Pete Zimmerhanzel knows quality meat!! He provided some of the greatest beef I have ever seen. Next update will include additional coverage of this event.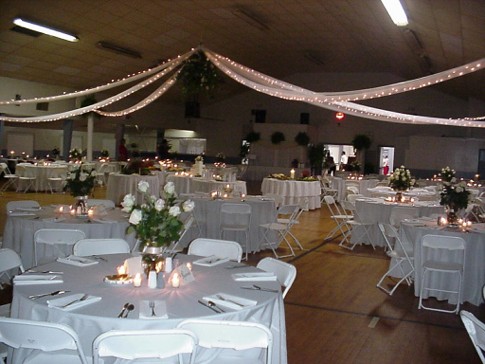 This is just a "teaser" of some of the decor and appointments.
Rudy L. "Tim" Mikeska Jr.
Diamond Inn Hamburger Count....... Tuesday's Only Total....... 10,498


Archive Highlights: 12-29-99..........Hoover Family, Rudy Sr's Prayer Garden, Uncle Maurice
Archive Highlights: 1-15-2000........ Merle Haggard's Wedding
Archive Highlights: 2-14-2000........ A Mikeska Wedding, Sheriff Ed Richards, Crockett High School Sports Banquet
Archive Highlights: 3-2-2000.......... Diamond Inn Hamburgers, More of Gerry's Wedding, BOSNIA yes or no?
Archive Highlights: 3-13-2000....... Baylor University Award, Lent Specials, SnakeShow, Meggie's Scholastic Award, Definition of "Bohemian"
Archive Highlights: 3-25-2000....... Movie at the Mikeska Home, My Children, Candy's Birthday, Military C-130 to California Catering, Some of My Aunts.
Archive Highlights: 4-9-2000.......Serving the Governor at the Capitol, Longhorn Band, Lt. Gov.Rick Perry and Timothy, Astros at Enron Field, Nolan Ryan
Archive Highlights: 4-20-2000......History of our Building, cooking a ton of beans, New Round Rock Express Stadium "Dell Diamond", SP-500 Mobile Pit smoking our famous Pork Loin
Archive Highlights: 5-1-2000.......Mr. Rudy's Grand Champion, Cooking Crawfish, Our Corporate Airplane, Picnic for 3,000,
Archive Highlights: 5-15-2000..... My Grandfather John Mikeska, Mom & Dad in the 1950's, My Dad and I in 1961, Skiing Mikeska Cousins, Bosnia Update
Archive Highlights: 6-10-2000.....San Francisco, Taylor Publishing Party, Rudy's Glazed Brick Pit/Smoker.
Archive Highlights: 6-15-2000.....Texas Barbecue Book, Keith's New McDonalds Franchise, Tribute to Matt Maddox, Bosnia Itinerary.
Archive Highlights:6-27-2000......Stephen & Angie Mikeska's Wedding, Texas A&M University's Stiles Farm Foundation Annual Bar-B-Q.
Archive Highlights:7-10-2000......BOSNIA.... my personal thoughts and my first list of pictures
Archive Highlights:7-18-2000......BOSNIA... more pictures, our July 4th Bar-B-Q at Eagle Base Tuzla, Bosnia
Archive Highlights:8-7-2000.......BOSNIA.... more pictures, BIG Redfish
Archive Highlights:8-14-2000 ......Mikeska Kids:"Wanted Poster", Rudy III and Tim making "Mikeska Brand" sausage, few more BOSNIA pictures
Archive Highlights:8-28-2000.......The "Quiet Birdmen", Mikeska's 22nd Annual Taylor International BBQ Cookoff Judges Party, Our meat selections,
Archive Highlights:9-17-2000.......Westlake High School's 1,400 guests at the Stadium, Ribs Served Hot Off The Pit, Happy Birthday Mike Vanecek
Archive Highlights:9-25-2000.......Texas National Guard Family Readiness Dinner, Soldiers Return From Bosnia, One Last Picture From Bosnia
Archive Highlights:10-3-2000......Sunbelt Rentals Catfish Buffet, Tim Mikeska....appointed to the Board of Health.

Please remember to click on my Archives Link (below left)