Headlines October 3rd, 2000


Sunbelt Rentals Event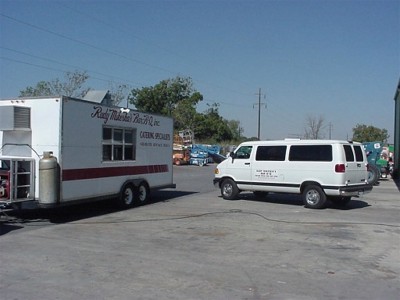 This event was at their facility in Kyle Texas. They chose the "All-You-Can-Eat" Fried Catfish Buffet.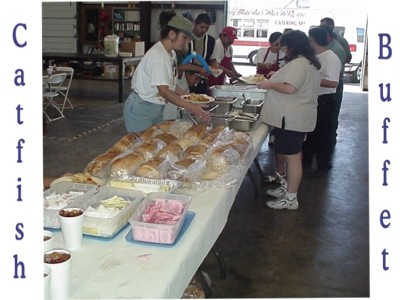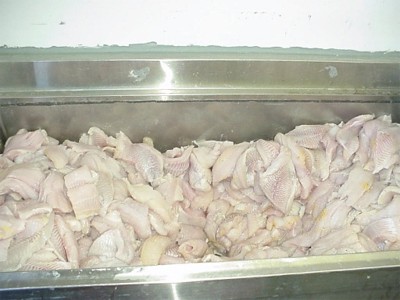 This is about 200 lbs of 4 oz. Catfish Filets dry curing in our stainless steel draining bin. (a little secret.......... Always dry your fish before adding your corn meal seasoning.)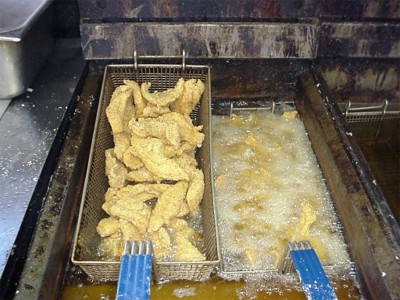 We always use fresh Blended Peanut Oil to fry our Catfish.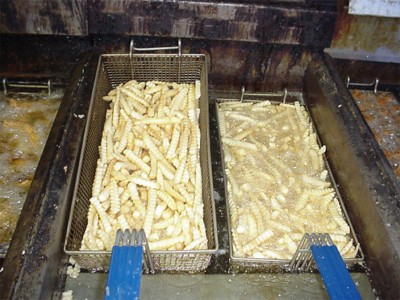 Krinkle Cut French Fries..... My personal favorite!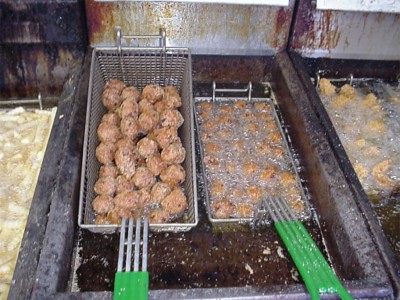 Jalapeno and Onion Hush Puppies.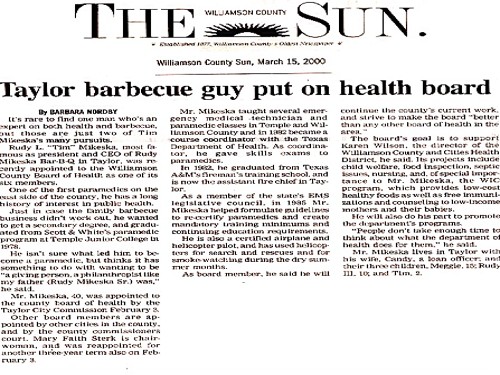 No, this is not a mistake. I was appointed to a 3 year term on the Williamson County Board of Health. A great honor !!

Thanks,
Rudy L. "Tim" Mikeska Jr.
Diamond Inn Hamburger Count....... Tuesday's Only Total....... 10,151


Archive Highlights: 12-29-99..........Hoover Family, Rudy Sr's Prayer Garden, Uncle Maurice
Archive Highlights: 1-15-2000........ Merle Haggard's Wedding
Archive Highlights: 2-14-2000........ A Mikeska Wedding, Sheriff Ed Richards, Crockett High School Sports Banquet
Archive Highlights: 3-2-2000.......... Diamond Inn Hamburgers, More of Gerry's Wedding, BOSNIA yes or no?
Archive Highlights: 3-13-2000....... Baylor University Award, Lent Specials, SnakeShow, Meggie's Scholastic Award, Definition of "Bohemian"
Archive Highlights: 3-25-2000....... Movie at the Mikeska Home, My Children, Candy's Birthday, Military C-130 to California Catering, Some of My Aunts.
Archive Highlights: 4-9-2000.......Serving the Governor at the Capitol, Longhorn Band, Lt. Gov.Rick Perry and Timothy, Astros at Enron Field, Nolan Ryan
Archive Highlights: 4-20-2000......History of our Building, cooking a ton of beans, New Round Rock Express Stadium "Dell Diamond", SP-500 Mobile Pit smoking our famous Pork Loin
Archive Highlights: 5-1-2000.......Mr. Rudy's Grand Champion, Cooking Crawfish, Our Corporate Airplane, Picnic for 3,000,
Archive Highlights: 5-15-2000..... My Grandfather John Mikeska, Mom & Dad in the 1950's, My Dad and I in 1961, Skiing Mikeska Cousins, Bosnia Update
Archive Highlights: 6-10-2000.....San Francisco, Taylor Publishing Party, Rudy's Glazed Brick Pit/Smoker.
Archive Highlights: 6-15-2000.....Texas Barbecue Book, Keith's New McDonalds Franchise, Tribute to Matt Maddox, Bosnia Itinerary.
Archive Highlights:6-27-2000......Stephen & Angie Mikeska's Wedding, Texas A&M University's Stiles Farm Foundation Annual Bar-B-Q.
Archive Highlights:7-10-2000......BOSNIA.... my personal thoughts and my first list of pictures
Archive Highlights:7-18-2000......BOSNIA... more pictures, our July 4th Bar-B-Q at Eagle Base Tuzla, Bosnia
Archive Highlights:8-7-2000.......BOSNIA.... more pictures, BIG Redfish
Archive Highlights:8-14-2000 ......Mikeska Kids:"Wanted Poster", Rudy III and Tim making "Mikeska Brand" sausage, few more BOSNIA pictures
Archive Highlights:8-28-2000.......The "Quiet Birdmen", Mikeska's 22nd Annual Taylor International BBQ Cookoff Judges Party, Our meat selections,
Archive Highlights:9-17-2000.......Westlake High School's 1,400 guests at the Stadium, Ribs Served Hot Off The Pit, Happy Birthday Mike Vanecek
Archive Highlights:9-25-2000.......Texas National Guard Family Readiness Dinner, Soldiers Return From Bosnia, One Last Picture From Bosnia

Please remember to click on my Archives Link (below left)