Headlines March 13, 2000
My family was honored by Baylor University as a Semifinalist for The Outstanding Family Business of the year. We were selected from over 300 businesses in Texas.
It was a great honor.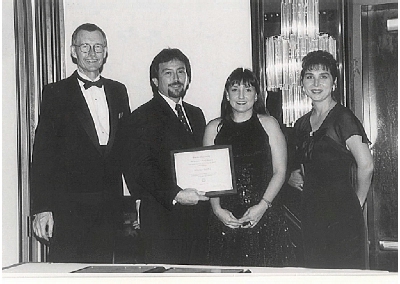 Here with the award is Program Director Bob Hughes, myself, my wife Candy and Baylor University's Susan Meacham.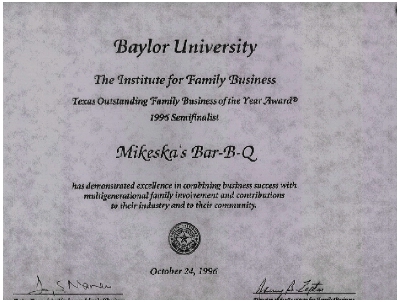 Our Award
NEW PRODUCT !
"Mikeska Brand" Bar-B'Qued Turkey Breast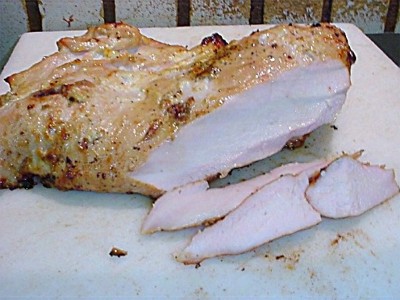 Here is our new "low fat" Turkey Breast that has been marinated in a special wet seasoning cure for 4 days, then slow smoked for 4 hours over hard oak wood.
It's on the plate lunch for $ 5.95 or by the pound for $ 7.50.
You can also choose this as one of your meat choices on any of our catering menus.
Lent Specials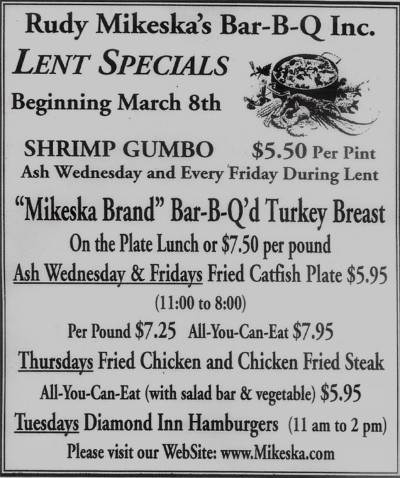 Rattlesnake Sacking Championships
For many years, we have had concession sales at the annual Taylor Jaycee Rattlesnake Sacking Championships. This unique event is held every year in March at Taylor's Murphy Park Pavilion. The object of this event is for two contestants, one sacker and the other sack holder, to see how quick they can catch and bag 10 rattlesnakes. This is something you have to see once in your life. During the 2 day event, guests can visit the snake pit, carnival, arts and crafts, country and tejano music and of course, Mikeska's Bar-B-Q. About 5 years ago, I decided to try to sell some Smoked Turkey Legs at our concession. I only cooked 600 legs and we ran out the first day in 2 hours! Since then we have been preparing over 1,000 of these each day and still selling out before the end of the event. I love to see the face of small child when I hand them this 10 inch Turkey Leg! Their eyes are wide open and an immediate smile comes across their face.
Kids are just great..... I suggest you get a couple of them.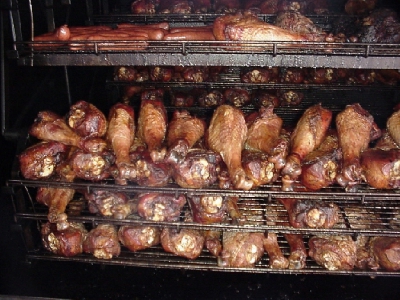 "Mikeska Brand" Smoked Turkey Legs
Part of our concession sales at the Rattlesnake Sacking Championships

Here is our crew ready to sell some bar-b-q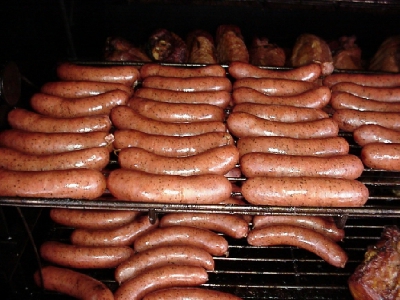 "Mikeska Brand" Spicy Pork Sausage
Smoking on our Mobile SP-500 Pit

Same seasoning recipe that my Father Rudy Sr. created in the 1940's,
Of course, the quality of the meats are much improved over the old ingredients.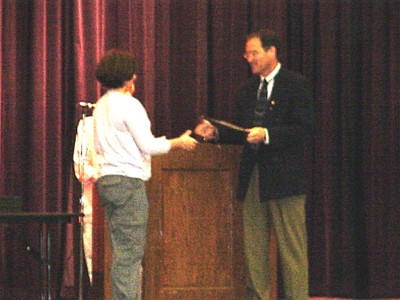 We are very proud of our daughter Meggie who is shown receiving her Superintendent's Scholar Academic Award from Taylor I.S.D. Superintendent Gary Patterson. Great Work Meggie.....!
I have allot of feedback concerning my "possible" catering event in Bosnia. I appreciate all the responses. I am sorry that I can't take everyone who has requested to go along for the ride. Especially the nice "ladies" who asked to go. I really don't think the Texas Army National Guard (or Candy) would approve. Plus, this will be a difficult event.
I had numerous e-mail regarding my use of the word "bohemian". Many asked what a "bohemian" was. Other e-mail knew what one was and couldn't believe I placed myself in that category. First of all let me explain that, my Grandmother Mikeska's Family was named Valis. They came from a region of Czechoslovakia that was once Bohemia. The Mikeska Family was from a region more closely associated with Moravia. Now if you check the dictionary for the word "bohemian" you will get comparisons like.......nonconformist, unorthodox, avant-garde, unusual, eccentric, nomadic, independent, self-styled, suave, debonair, and my favorite of all...............
MAVERICK.

I think of us as being Mavericks of the Bar-B-Q business. If you look in your big city phonebooks you will see the word Bar-B-Q, or Barbecue, or BBQ, or Bar-B-Que, mentioned many times in advertisements for restaurants and catering companies. Twenty years ago, there were very few Bar-B-Q establishments. My father and his brothers started cooking meat over wood long before most of these people were even born. Barbecue is now big business. I am very thankful for our heritage. And yes, I am thankful for being "bohemian".

Thanks,
Rudy L. "Tim" Mikeska Jr.
Diamond Inn Hamburger Count.......3rd Tuesday Total....... 1,184
(I'm starting to count these in the hope that one day we can have a sign that reads.....Billions and Billions Served!).

Archive Highlights: 12-29-99..........Hoover Family, Rudy Sr's Prayer Garden, Uncle Maurice

Archive Highlights: 1-15-2000........ Merle Haggard's Wedding
Archive Highlights: 2-14-2000........ A Mikeska Wedding, Sheriff Ed Richards, Crockett High School Sports Banquet

Archive Highlights: 3-2-2000.......... Diamond Inn Hamburgers, More of Gerry's Wedding, BOSNIA yes or no?
Please remember to click on my Archives Link (below left)