Headlines September 25th, 2000

Bosnia Troops Returning Home !!
In just a few more days the brave peacekeepers of the Texas National Guard will return from Bosnia. As a fortunate civilian who witnessed their many tasks in Bosnia, I say.... "THANK YOU and your families for your service to our country and to Texas."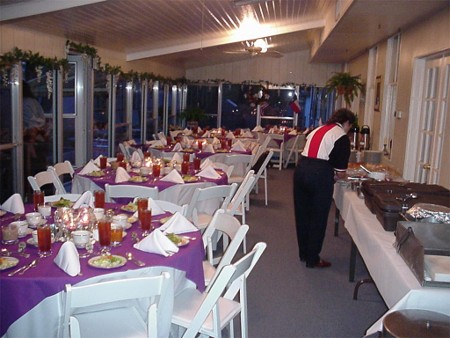 Mikeska's was fortunate to have been asked to cater the Family Readiness Dinner at the beautiful home of the Adjutant General of Texas, Camp Mabry, Austin Texas.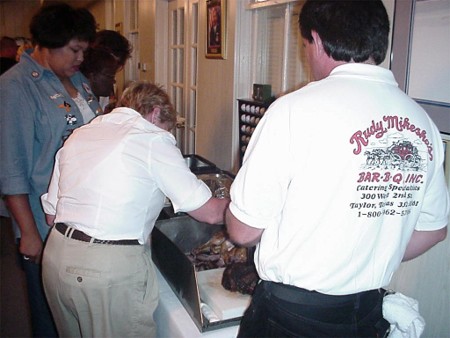 I personally cut the meats for this event. Mrs. Daniel James, the lovely wife of the Adjutant General did a beautiful job decorating the guest tables and setting the china service pieces. (Special Thanks.... to Mrs. James mother whom I met that evening and assisted with the serving. She also inspired me with some wonderful observations regarding our shared faith.)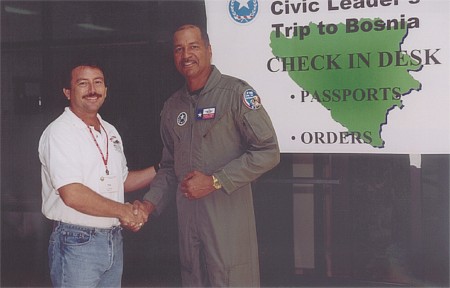 Here I am with Major General James prior to our departure for Bosnia.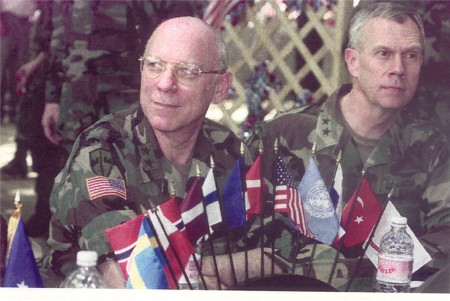 Major General Robert Halverson and Major General Raymond F. Rees. General Halverson commands the 49th Division in Bosnia. General Rees is Vice Chief of the National Guard Bureau in Washington D.C. I also had the great honor to finally meet Mrs. Halverson at the Family Readiness Dinner last Friday evening.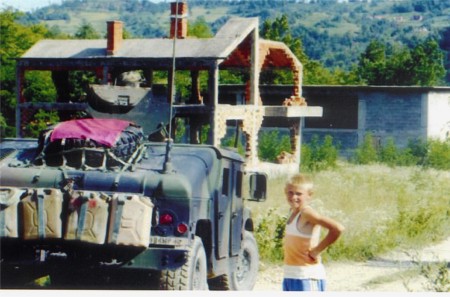 This special picture (taken near the Sultanovici killing fields) reminds me of the destruction and despair of the residents of Bosnia. In the background stands a bombed out home. On the left is a United States armed Humvee (part of our Military Police Security Detachment) and finally on the right is a young survivor of the war in Bosnia. I often think about the many opportunities our children have and then I reflect on what future lies ahead for this young boy. Our Texas National Guardsmen, by their peacekeeping mission in this region, hope to preserve this young boys future.
Thanks,
Rudy L. "Tim" Mikeska Jr.
Diamond Inn Hamburger Count....... Tuesday's Only Total....... 9,833


Archive Highlights: 12-29-99..........Hoover Family, Rudy Sr's Prayer Garden, Uncle Maurice
Archive Highlights: 1-15-2000........ Merle Haggard's Wedding
Archive Highlights: 2-14-2000........ A Mikeska Wedding, Sheriff Ed Richards, Crockett High School Sports Banquet
Archive Highlights: 3-2-2000.......... Diamond Inn Hamburgers, More of Gerry's Wedding, BOSNIA yes or no?
Archive Highlights: 3-13-2000....... Baylor University Award, Lent Specials, SnakeShow, Meggie's Scholastic Award, Definition of "Bohemian"
Archive Highlights: 3-25-2000....... Movie at the Mikeska Home, My Children, Candy's Birthday, Military C-130 to California Catering, Some of My Aunts.
Archive Highlights: 4-9-2000.......Serving the Governor at the Capitol, Longhorn Band, Lt. Gov.Rick Perry and Timothy, Astros at Enron Field, Nolan Ryan
Archive Highlights: 4-20-2000......History of our Building, cooking a ton of beans, New Round Rock Express Stadium "Dell Diamond", SP-500 Mobile Pit smoking our famous Pork Loin
Archive Highlights: 5-1-2000.......Mr. Rudy's Grand Champion, Cooking Crawfish, Our Corporate Airplane, Picnic for 3,000,
Archive Highlights: 5-15-2000..... My Grandfather John Mikeska, Mom & Dad in the 1950's, My Dad and I in 1961, Skiing Mikeska Cousins, Bosnia Update
Archive Highlights: 6-10-2000.....San Francisco, Taylor Publishing Party, Rudy's Glazed Brick Pit/Smoker.
Archive Highlights: 6-15-2000.....Texas Barbecue Book, Keith's New McDonalds Franchise, Tribute to Matt Maddox, Bosnia Itinerary.
Archive Highlights:6-27-2000......Stephen & Angie Mikeska's Wedding, Texas A&M University's Stiles Farm Foundation Annual Bar-B-Q.
Archive Highlights:7-10-2000......BOSNIA.... my personal thoughts and my first list of pictures
Archive Highlights:7-18-2000......BOSNIA... more pictures, our July 4th Bar-B-Q at Eagle Base Tuzla, Bosnia
Archive Highlights:8-7-2000.......BOSNIA.... more pictures, BIG Redfish
Archive Highlights:8-14-2000 ......Mikeska Kids:"Wanted Poster", Rudy III and Tim making "Mikeska Brand" sausage, few more BOSNIA pictures
Archive Highlights:8-28-2000.......The "Quiet Birdmen", Mikeska's 22nd Annual Taylor International BBQ Cookoff Judges Party, Our meat selections,
Archive Highlights:9-17-2000.......Westlake High School's 1,400 guests at the Stadium, Ribs Served Hot Off The Pit, Happy Birthday Mike Vanecek

Please remember to click on my Archives Link (below left)