Headlines April 9th, 2000
Rudy Mikeska's Catering for the Governor at the Texas Capitol

2,500 Guests April 8th, 2000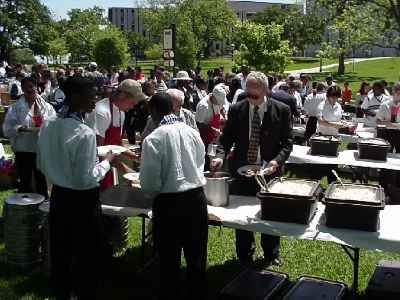 Here is our faithful Peter Chapa cutting Mikeska's Brisket and Sausage for The University of Texas Longhorn Band (Peter is a BIG U.T. Fan!)

He even had the band autograph his catering uniform.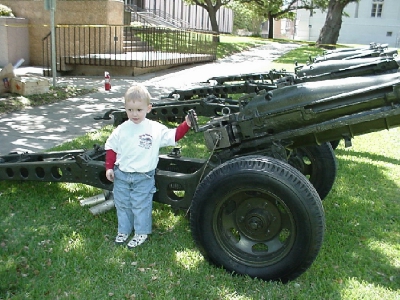 Here is Timothy in his catering uniform preparing to FIRE the Army's Ceremonial Howitzer before the Governor catches him!!!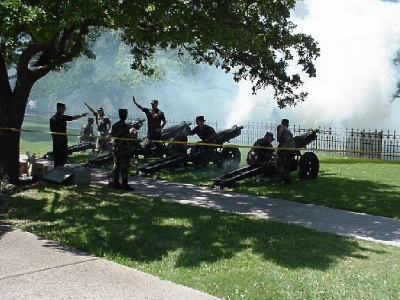 Ceremonial Cannon Salute for the Governor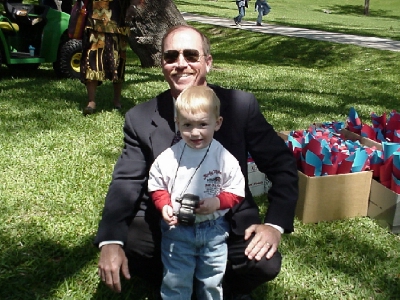 Timothy meets Carlton Turner the Sgt-at-Arms for the Texas Senate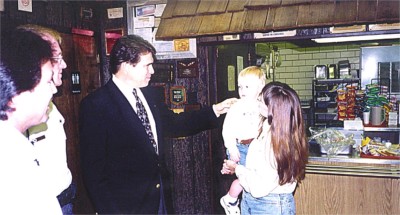 Timothy with Lt. Governor Rick Perry.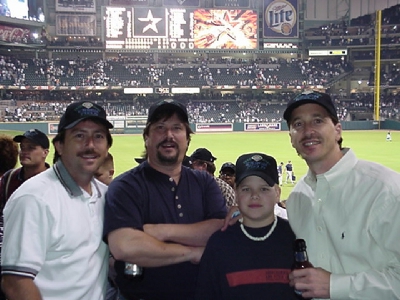 We did manage to have a little fun this past few weeks. My cousins Nick, Cody Gerry and I enjoyed the first Houston Astros baseball game at their new home Enron Field.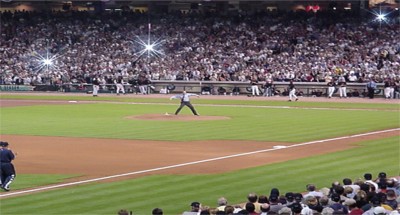 Nolan Ryan had the honor of the first pitch at Enron Field.

Springtime is a busy time for our barbecue and catering business. If you are planning an event for this summer, please give us a call at 1-800-962-5706. I am still receiving allot of e-mail regarding our Bosnia 4th of July Barbecue. If you have a friend or loved one serving in Bosnia, then please have them e-mail at: info@Mikeska.com I would like some more information about the country and the customs.

Thanks,
Rudy L. "Tim" Mikeska Jr.
Diamond Inn Hamburger Count.......8th Tuesday Total....... 2,986
(I'm starting to count these in the hope that one day we can have a sign that reads.....Billions and Billions Served!).

Archive Highlights: 12-29-99..........Hoover Family, Rudy Sr's Prayer Garden, Uncle Maurice

Archive Highlights: 1-15-2000........ Merle Haggard's Wedding
Archive Highlights: 2-14-2000........ A Mikeska Wedding, Sheriff Ed Richards, Crockett High School Sports Banquet

Archive Highlights: 3-2-2000.......... Diamond Inn Hamburgers, More of Gerry's Wedding, BOSNIA yes or no?

Archive Highlights: 3-13-2000....... Baylor University Award, Lent Specials, SnakeShow, Meggie's Scholastic Award, Definition of "Bohemian"
Archive Highlights: 3-25-2000....... Movie at the Mikeska Home, My Children, Candy's Birthday, Military C-130 to California Catering, Some of My Aunts.
Please remember to click on my Archives Link (below left)